Best online Thanksgiving flowers to give, send, or keep for your home. In a hurry to send your love this Thanksgiving with flowers? And above all, are looking for the best online flowers with delivery service? In this post, we highlight some of the best companies in the business. Each offers unique flowers, plants and flexible services that deliver flowers and plants locally as well as all over the world. Perfect for family, friends, and co-workers to express your appreciation this Thanksgiving season.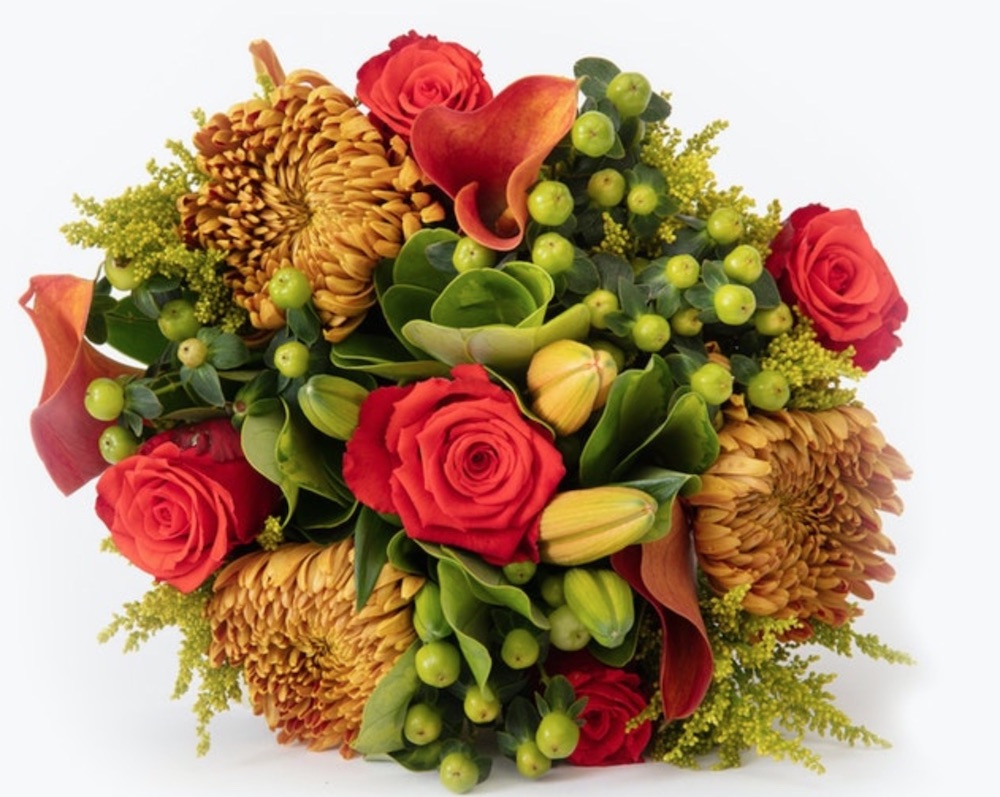 Take a look at these Autumn beauties that will add warmth and coziness to the Thanksgiving celebration.
Proflowers – Best Online Thanksgiving Flowers
An FTD company, ProFlowers features a variety of arrangements and products delivered by one of their florist networks. ProFlowers uses traditional florists near your recipient to fulfill your order.
In addition to flowers, Proflowers offers gifts including baskets, chocolates, Mrs. Field's cookies and other holiday-specific items such as Mother's Day and Easter. Flower arrangements start at $35.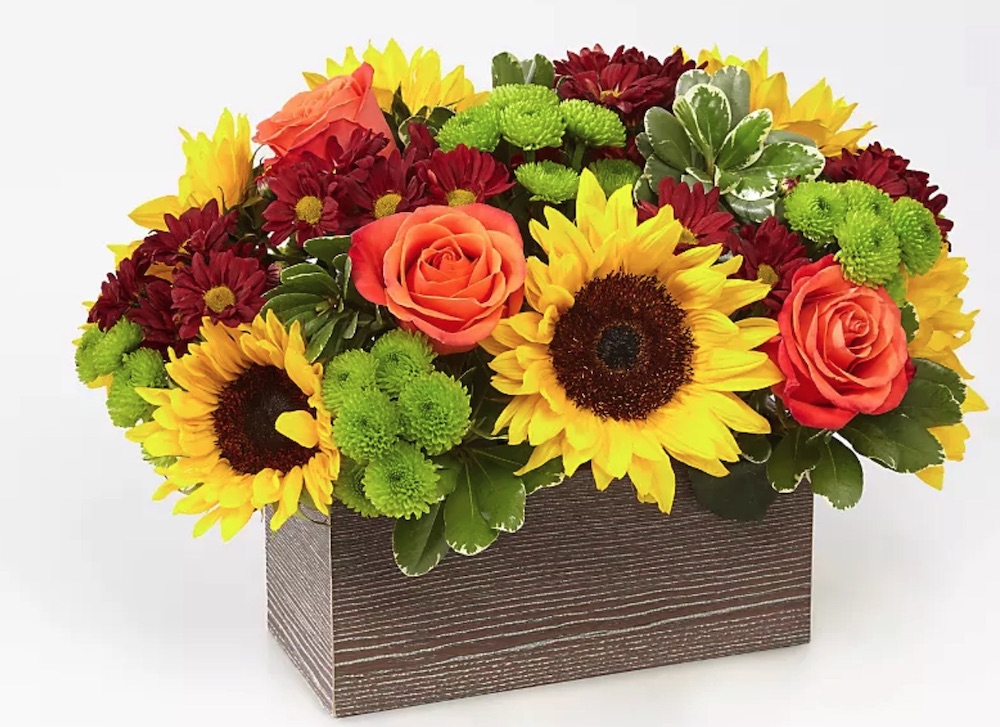 Available in three sizes, the Happy Harvest Garden has bright Autumn colors in a rustic, textured container. The middle size arrangement measures about 12 inches high by 16 inches wide. The Happy Harvest arrangement includes roses, Sunflowers, Button Mums with variegated foliage tucked between the flowers. As a result of the combined rustic container and Fall flowers, this arrangement fits nicely into rustic, country, farmhouse, and vintage decors.
2. 1 (800) Flowers
A long-standing floral delivery service, the 1-800Flowers have expanded their offerings to incorporate 11 other brands. These brands include Harry and David, Shari's Berries, Cheryl's Cookies and Wolferman's Bakery. When you wish to bundle flowers with additional gifts that may include food, fruit baskets, chocolate and other items, 1800flowers makes it easy to combine orders and shopping carts.
The flower selection is extensive and covers major holidays and categories. Of course, deliveries use a combination of local florists and FedEx, UPS and USPS service.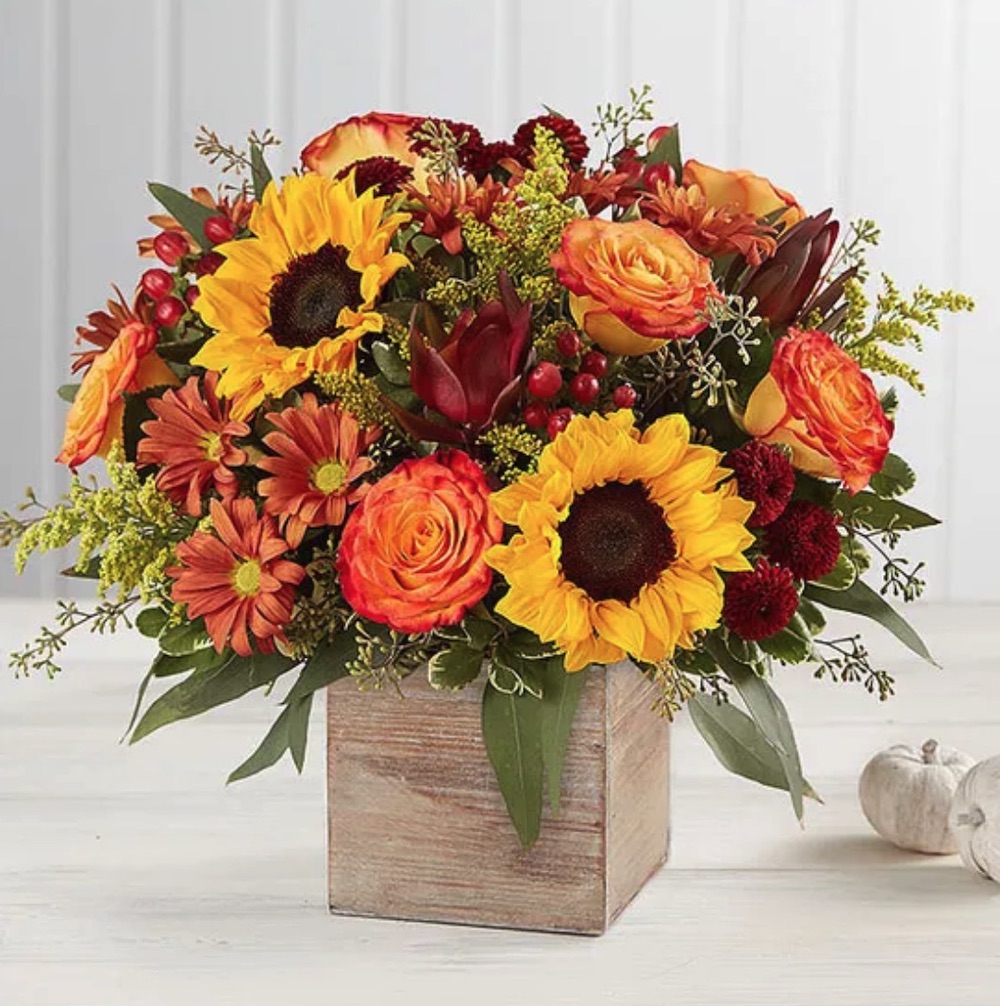 This bouquet offers you a choice of three sizes in the Harvest Glow Bouquet. The inspiration for this piece is that of the annual Autumn country harvest. With its farmhouse style, the bouquet has all the Autumn colors. Vibrant shades of red, orange, and yellow, all complement the rustic, grey washed wooden cube.
3. Floom
Collaborating with independent boutique florists in several states and major cities, Floom offers many floral options with new artisans that are consistently added to their network. Connect with Floom to see if they service your recipient's address.
Floom's bouquets are unique and curated by the florists, representing a wide range of premium arrangements with local delivery made to your recipient.
The company Floom also delivers house plants, gift baskets and even grocery delivery to select markets.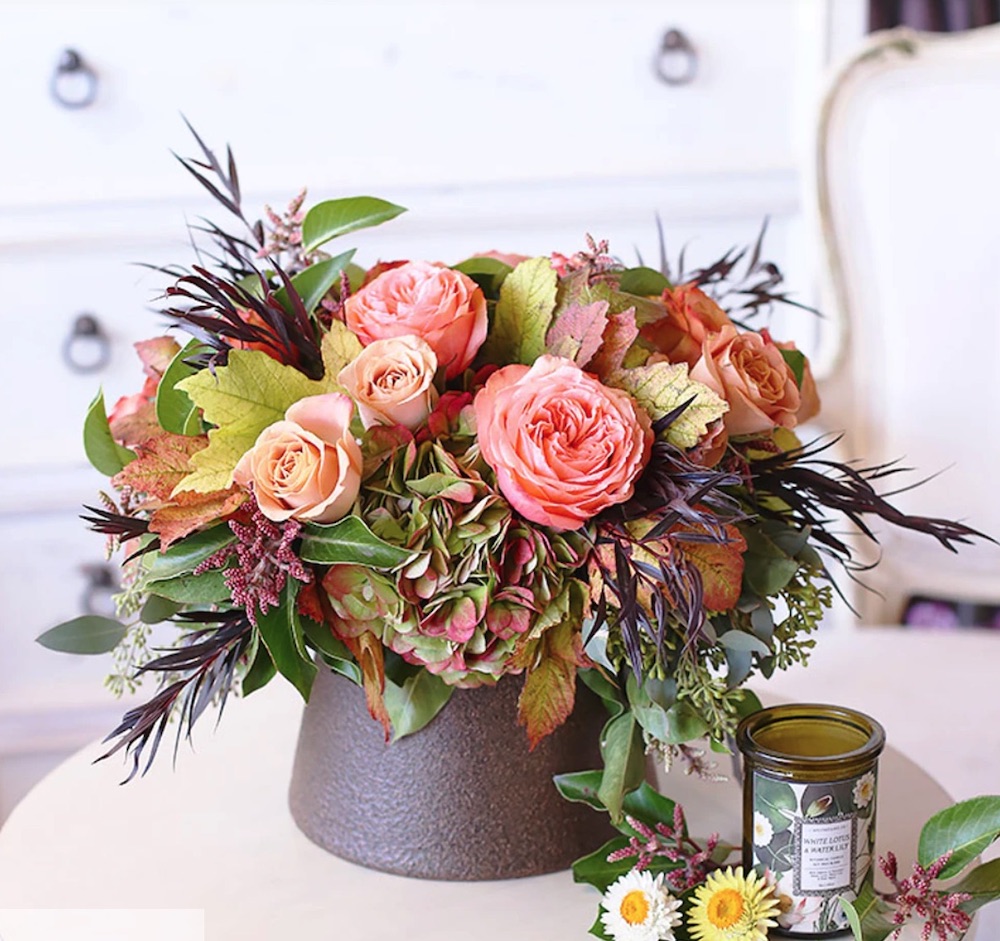 This gorgeous arrangement, Autumn Amour is by Orchid Republic Florist. Designed with a reflection of Autumn's beauty and festive colors such as soft vermillion and creamy peach roses. All nesting in emerald, dark brown, and copper-like assortment of antique hydrangeas, eucalyptus, and fall foliage. In this case, the container along with the flowers make for memorable Autumn decor.
4. The Bouqs Co.
Specializing in curated bouquets and indoor plants such as orchids and succulents, The Bouqs has beautifully crafted floral designs. Featured are vivid selections of Autumn colors. Place either individual delivery orders or regular subscriptions such as monthly or even mini-subscription gifts for as long as 3 months. And as you may expect, deliveries are handled by FedEx with floral prices that start at $39.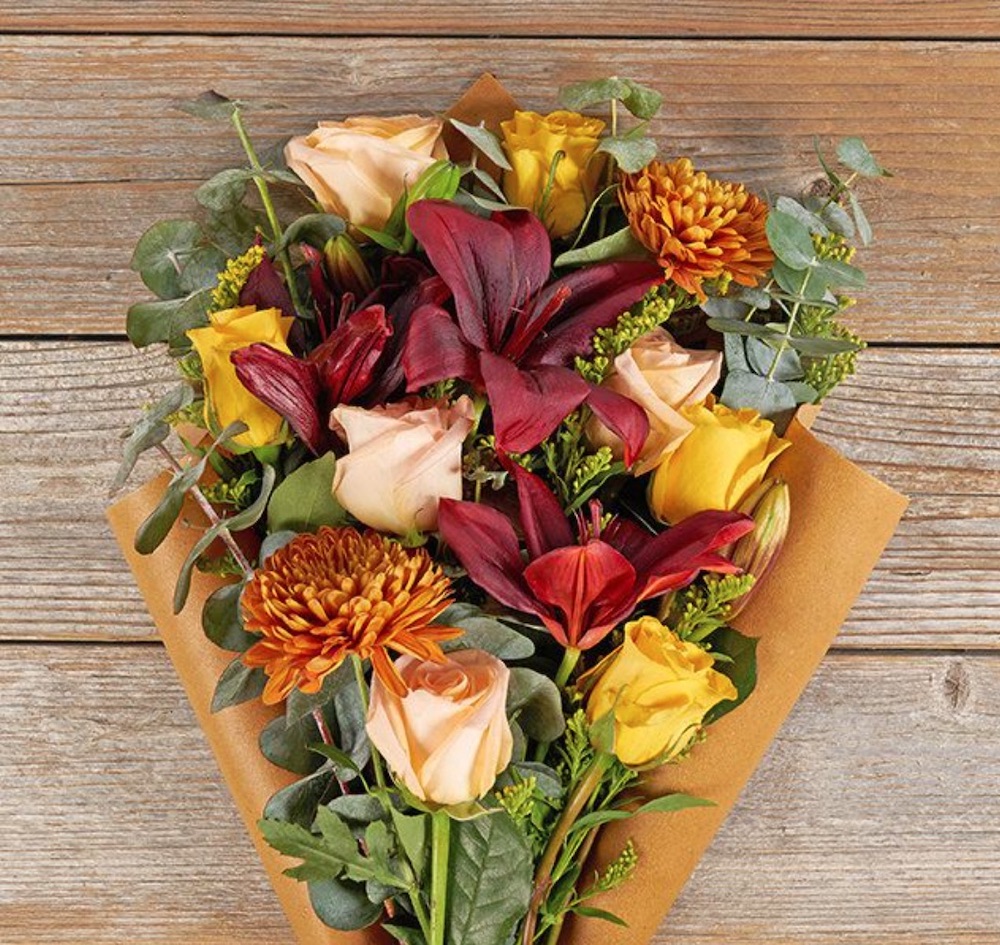 Featured is the Acorn Lane bouquet that includes peach and orange roses with blush lilies and bronze chrysanthemums. In addition to this, rustic colored flowers such as asters, yellow solidago, and baby blue eucalyptus are tucked among the roses and chrysanthemums.
5. Urban Stems – Best Online Thanksgiving Flowers
The Urban Stems florist specializes in curated bouquets that are designed by their florists. You'll also find some limited edition designs as well.
In addition to flowers, a limited selection of indoor plants such as orchids and succulents are available. And offer a few home gift items such as candles that bundle nicely. Arrangement prices begin at $45.
Urban Stems has subscription plans starting at $50 a month with free delivery that include a savings of 10-25%.
Urban Stems sources flowers from Rainforest Alliance Certified™ farms. To finish their service, Urban Stems offer courier and hand-delivered same-day and next day delivery in NYC and DC. All other areas are serviced by shipping via FedEx.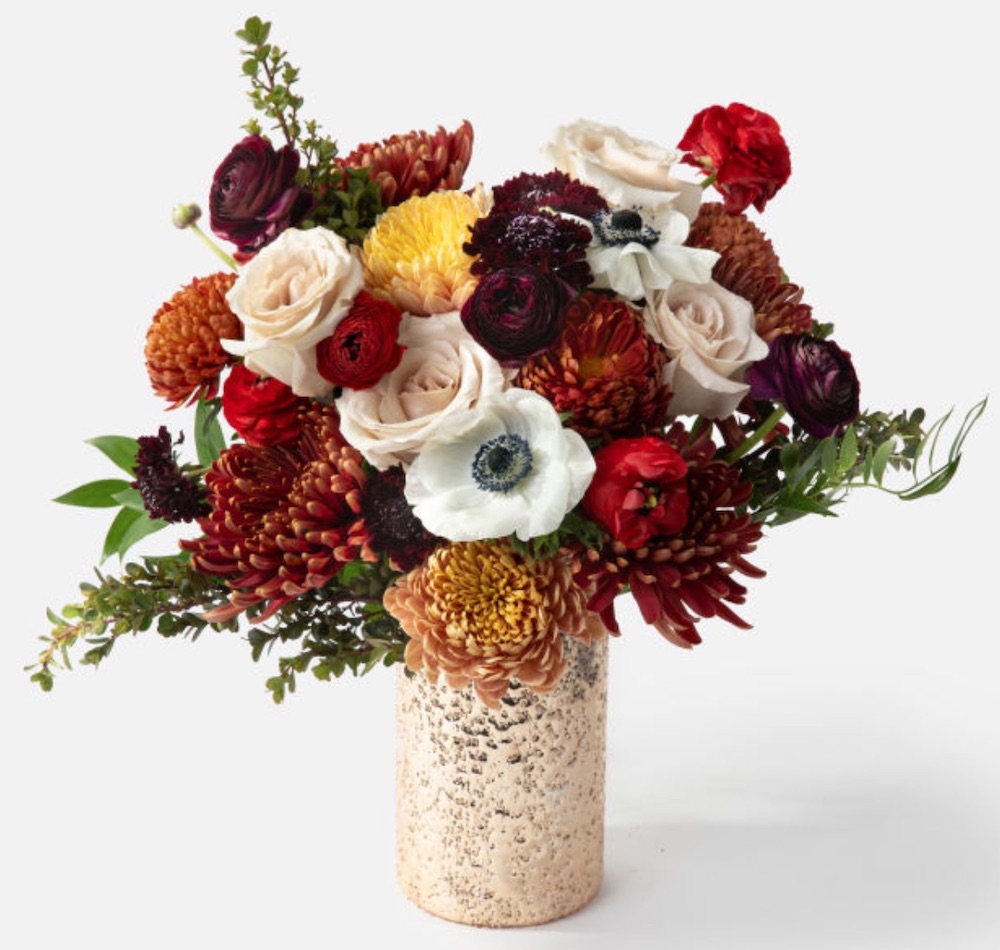 A Vogue designed bouquet, The Autumnal Palette features anemones and cherry red ranunculus. In addition to these flowers, you'll find Cremon Mums, Quicksand Roses, Boxwood, and Italian Ruscus in this bouquet.
6. From You Flowers
Another floral company, FromYouFlowers operates across multiple florist networks. This floral company offers deliveries through over 20,000 florists worldwide with its extensive worldwide partners.
You'll find an extensive selection of floral arrangements at varying price points that begin at $35.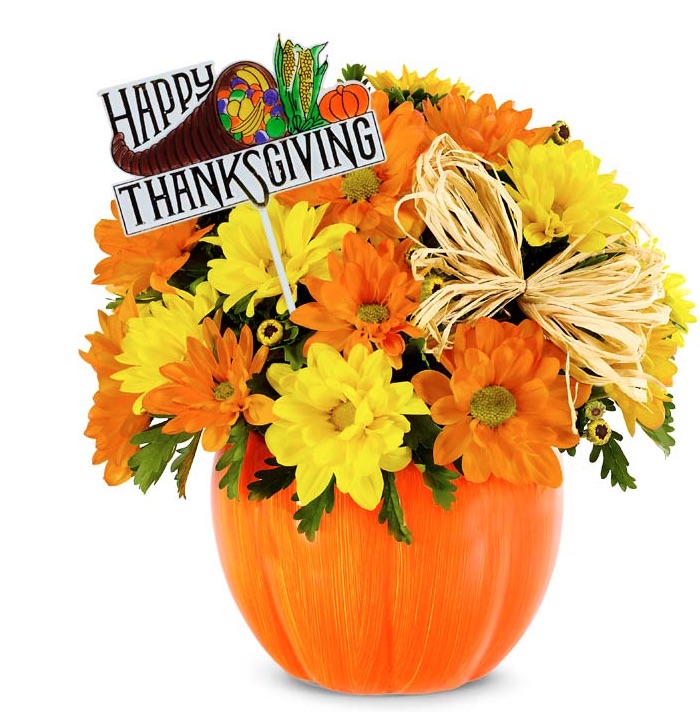 The hand-arranged Happy Thanksgiving Daisy Pumpkin Patch is filled with orange and yellow daisies then topped off with a raffia bow. All in a delightful ceramic pumpkin container then topped off with a Thanksgiving greeting pick. There is no better way to greet the Thanksgiving Holiday.
7. Teleflora
Based in Los Angeles, Teleflora operates via partnerships across a network of over 10,000 florists across the US and Canada. International deliveries are handled via another 20,000 partner florists worldwide. As well as same day delivery services offered on select arrangements.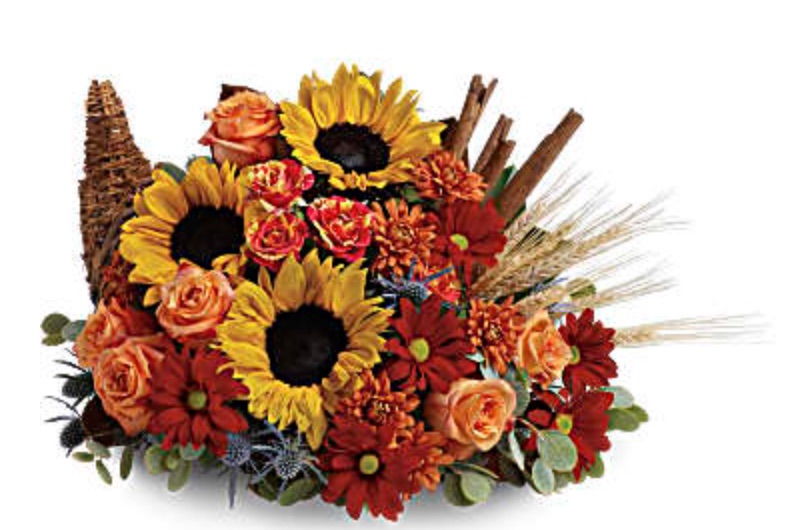 For the season of giving thanks, adorn the Thanksgiving table with the Classic Cornucopia arrangement. A classic Thanksgiving harvest display that features a horn shaped wicker basket overflowing with bountiful flowers and harvest wheat. To begin with, the display is reminiscent of the Fall harvest season in years past. The bountiful Fall flowers include Sunflowers, orange roses, blue eryngium, red daisies, yellow cushion mums, eucalyptus, with magnolia leaves. And as an added bonus, harvest wheat and cinnamon sticks are tucked inside the cornucopia.
8. BloomNation
Since 2011, BloomNation leverages the vast networks of independent local florists across the country. Unlike other companies that leverage these networks, BloomNation allows you to shop unique arrangements from local florists near your recipient. And of course the delivery areas and fees are determined by the local florist selected.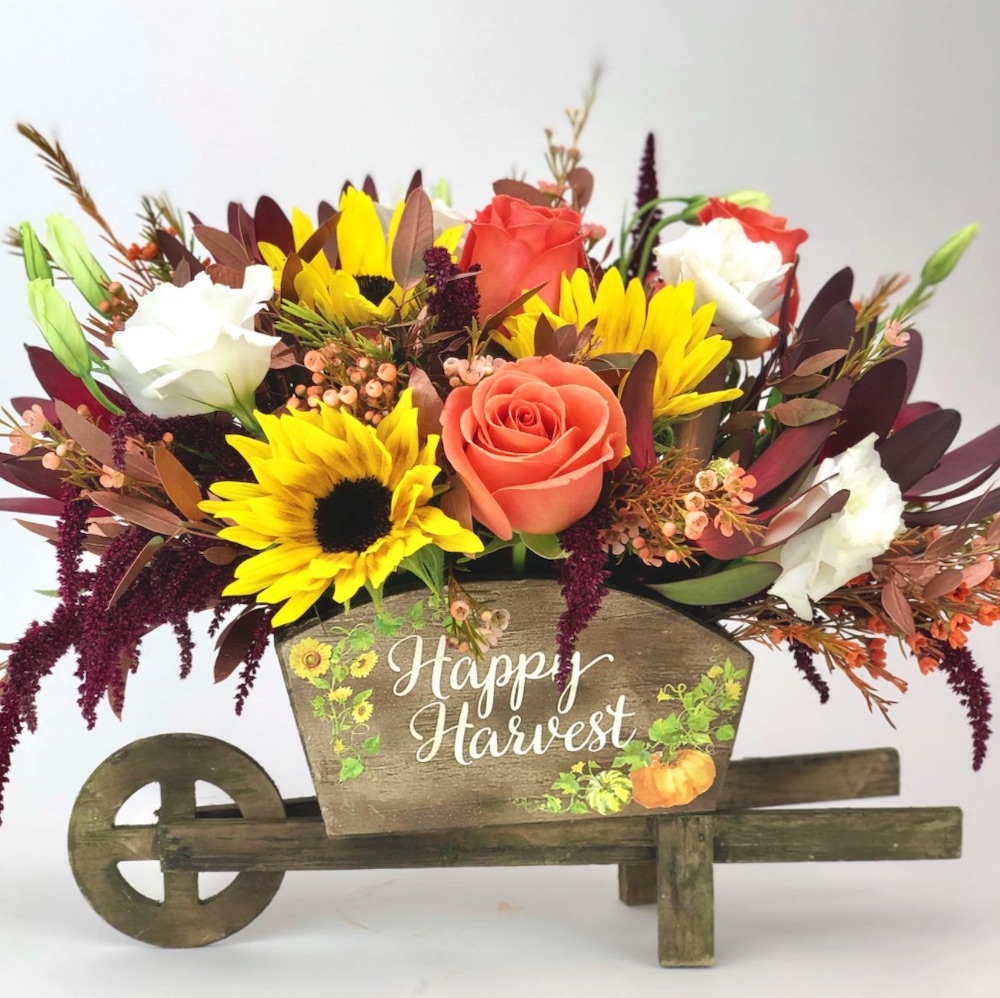 A Twinbrook Floral Design floral arrangement, the Harvest Time keepsake wheelbarrow includes a festive mixture of Fall floral favorites. The festive florals contain roses, lisianthus, Sunflowers, leucadendron, and amaranthus all in Autumn colors. Such a perfect blend of flowers with a delightful container for gift giving this Thanksgiving season.
9. FarmGirl Flowers
Original creators of the 'burlap wrapped bouquet', FarmGirl Flowers offers a variety of farm-fresh cut flowers beautifully arranged. Bouquets come wrapped in their signature reused burlap coffee bags sourced from local roasters. FarmGirl Flowers promises 'what you see is what you get' and posts pictures of real bouquets delivered recently. To accommodate these deliveries, FarmGirl Flowers sends their bouquets via UPS and FedEx for next day delivery.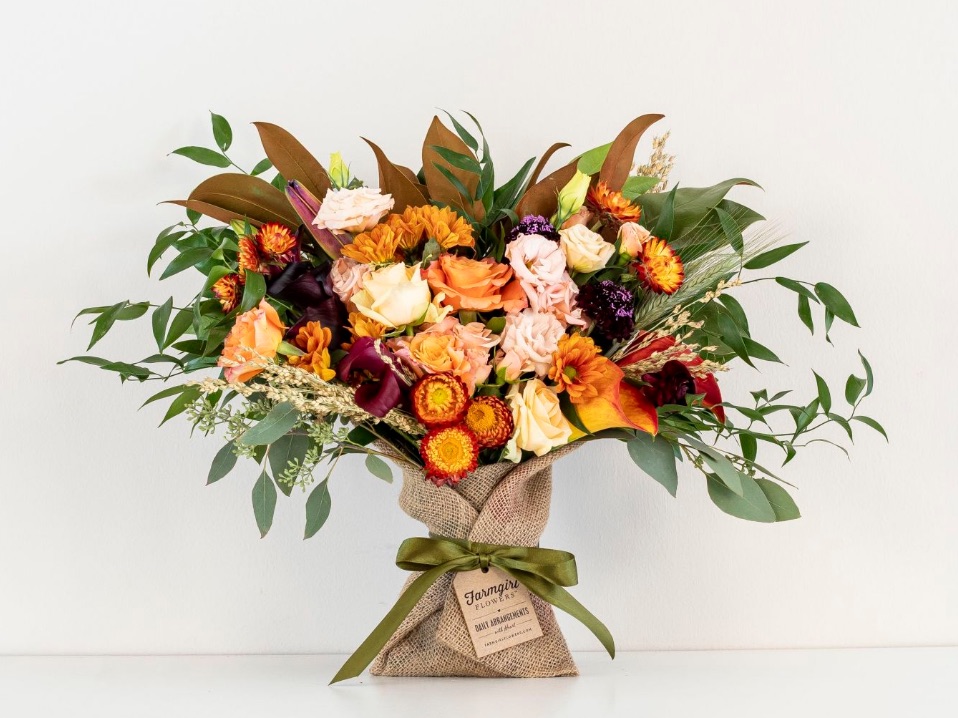 An original designed by FarmGirl Flowers, the Just Right Burlap Wrapped Bouquet has 25 blooms with foliage and bits. In short, all wrapped with love in their original upcycled, biodegradable coffee bags. In this particular arrangement, this bouquet uses a modern, fun mix of the highest quality flowers. And of course all designed into their signature whimsical, "just picked from the garden" look.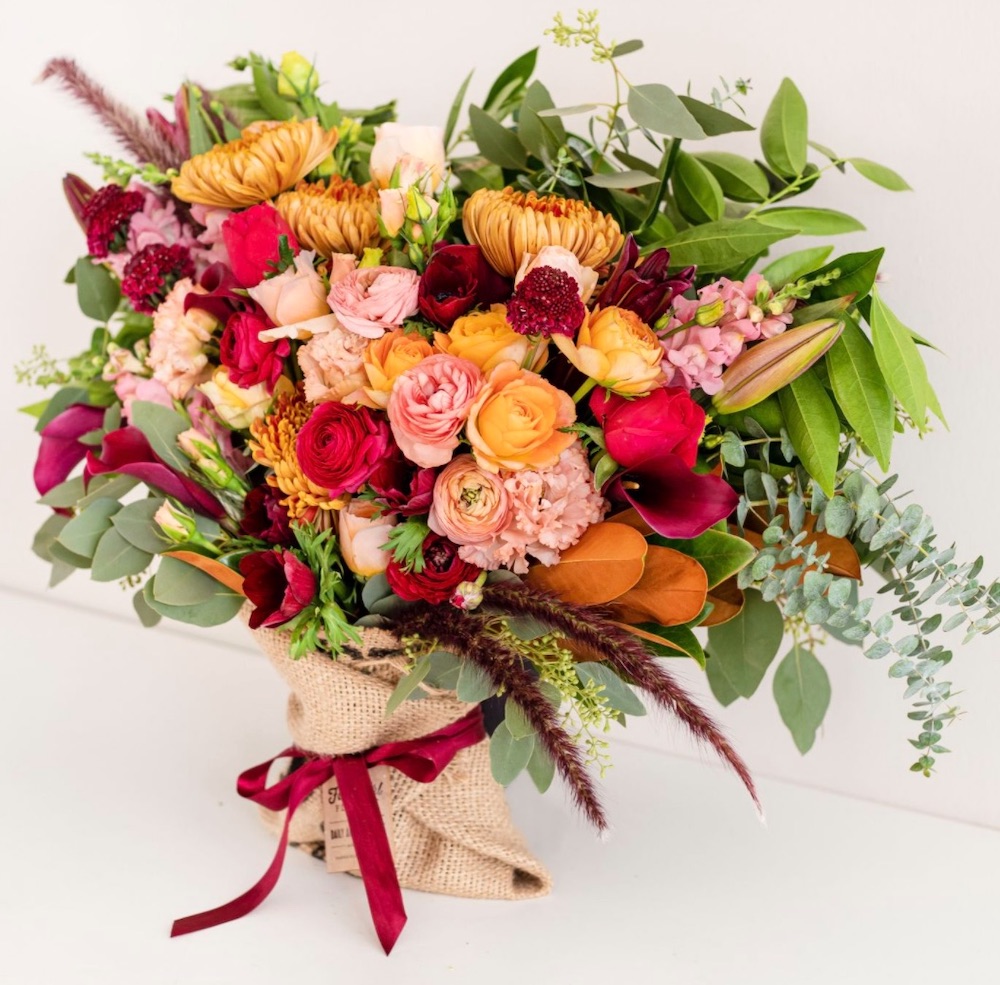 This massive 24 inch tall bouquet, Fancy Pants XL Burlap Wrapped Bouquet overflows with seasonal flowers. Then lovingly wrapped in their original burlap wrap made from 100% biodegradable reused coffee bags. Amazing flowers!
10. FTD – Best Online Thanksgiving Flowers
With over 100 years of creating floral designs and delivering those flowers, FTD is a long time leader in the floral business. With its network of florists, FTD also delivers candies, cookies, coffee, and baked goods with its flowers.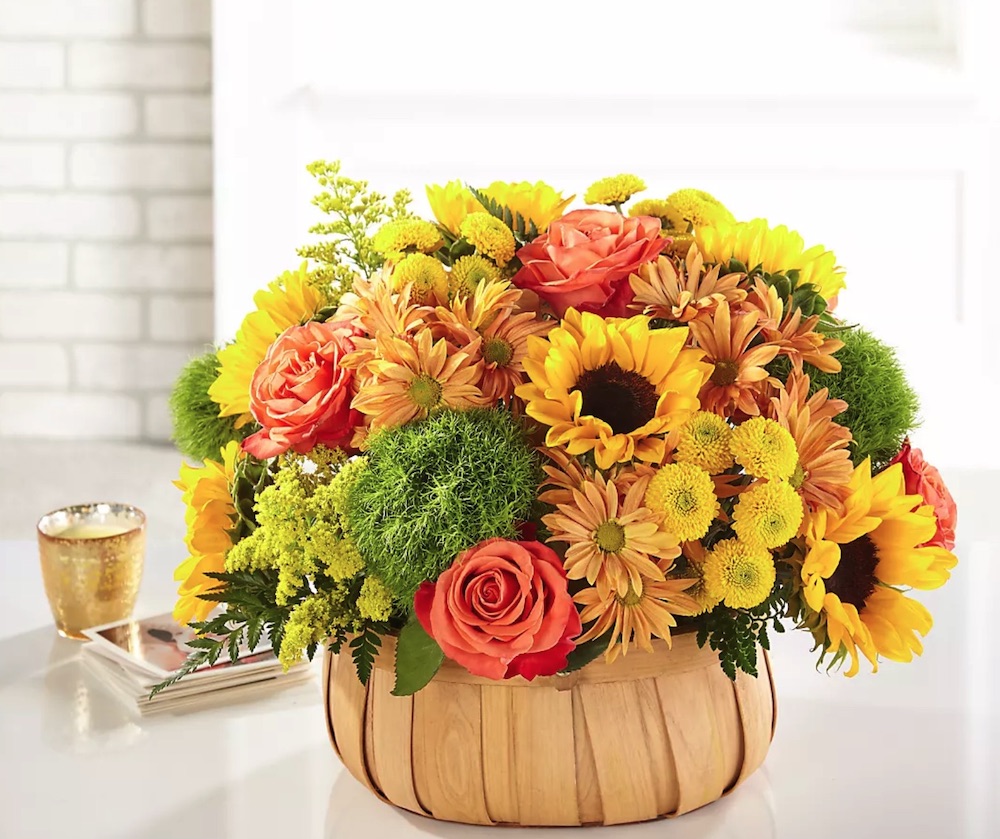 FTD's rustic and natural Harvest Sunflower Basket contains beautiful flowers. Available in three sizes filled with bold Sunflowers, roses, and dianthus in a natural woven basket. The mid size basket measures about 13 inches high by 17 inches wide. Ideal for family, friends, or co-workers.
11. Florists Com
Send flowers online for every occasion. Florists.com will deliver plants, gift baskets, cookies, chocolate strawberries, fruit bouquets along with your flower order.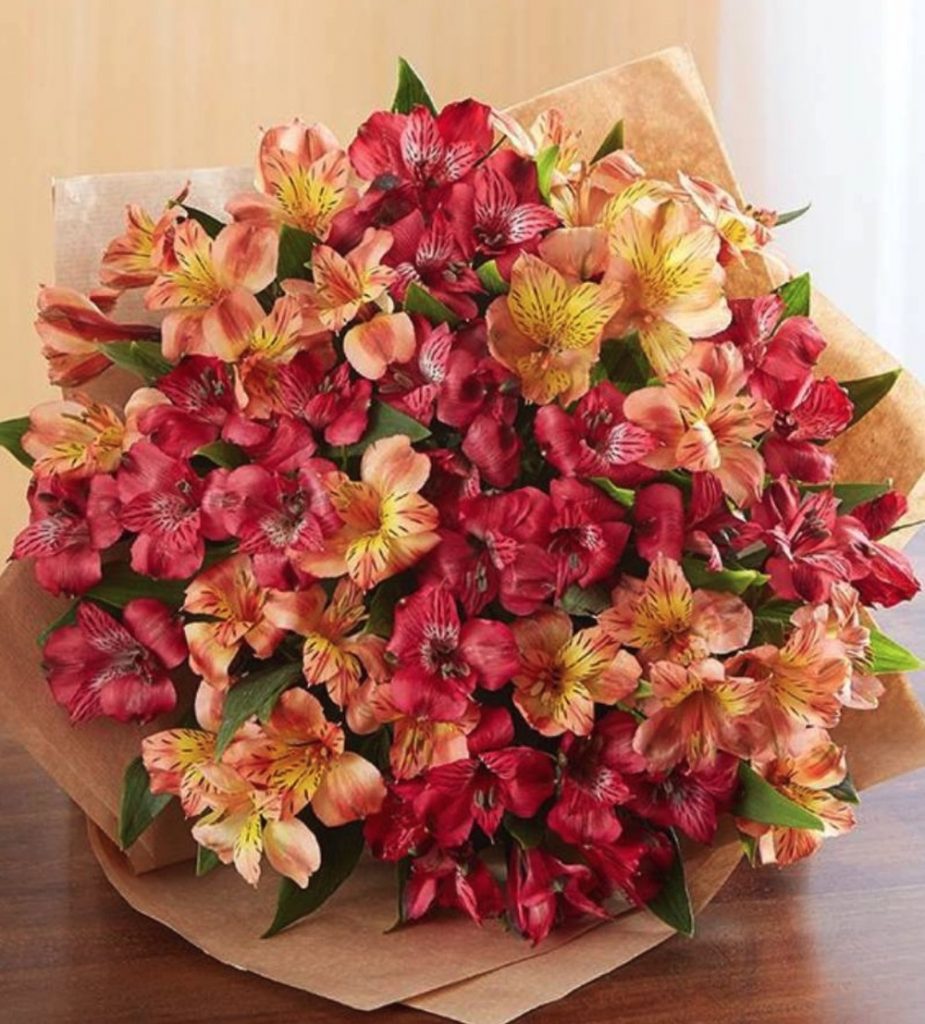 Shipped in a gift box directly from their flower farm, the Fall Peruvian Lilies include orange and red alstroemeria. The orange and red Peruvian Lilies are the perfect Fall bouquet.
12. Send Flowers
Same day delivery service is offered by Send Flowers. Whatever the occasion, Send Flowers has many floral options that include balloons, teddy bears, as well as candy baskets. Beautiful bright balloon bouquets for your loved one.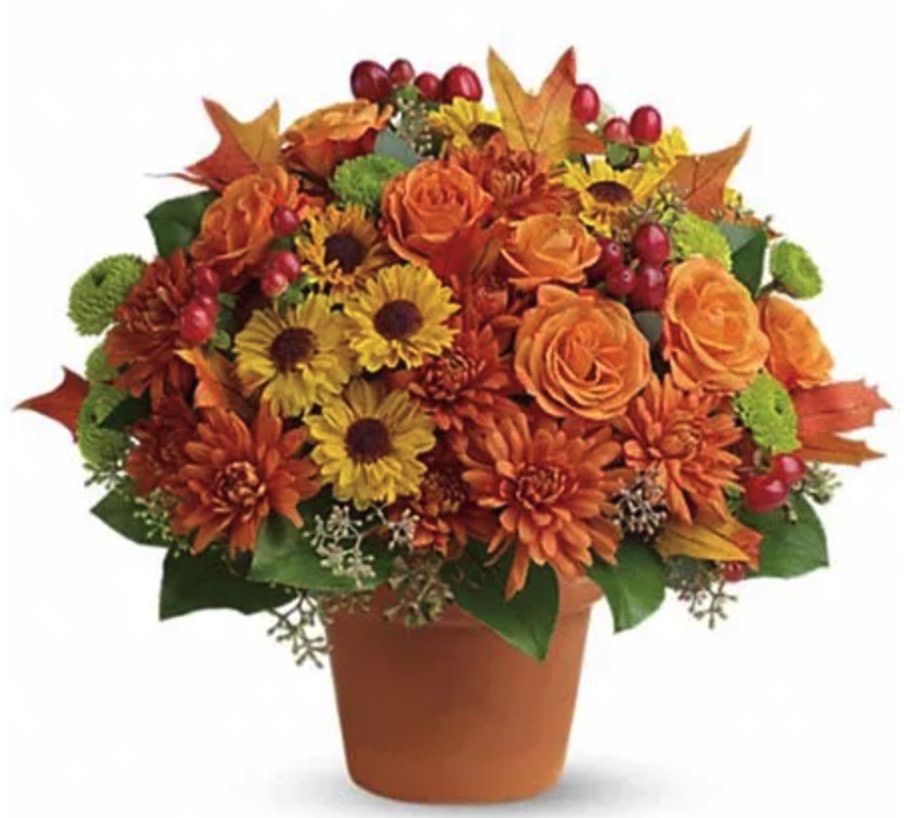 Named after the classic New England Sugar Maple trees, the Sugar Maples Mixed Bouquet is full of golden yellows, warm oranges, and bronze flowers. These floral colors mimic the Sugar Maple tree leaves during the Autumn season. The orange roses are mixed with bronze mums, yellow viking mums, red hypericum berries, and green button mums. As a finishing touch, the bouquet is accented with seeded eucalyptus and Fall leaves, all set inside a warm terra cotta pot.
13. Kremp Florist
Located in Willow Grove, Kremp Florist is Philadelphia's largest florist. A family floral business for over 60 years, the Kremp family provides a personal shopping experience for flowers and unique gifts. Both flowers and gifts can be sent anywhere worldwide. The greenhouse range is located in Bucks County where they grow their own poinsettias, mum plants, hanging baskets, and more.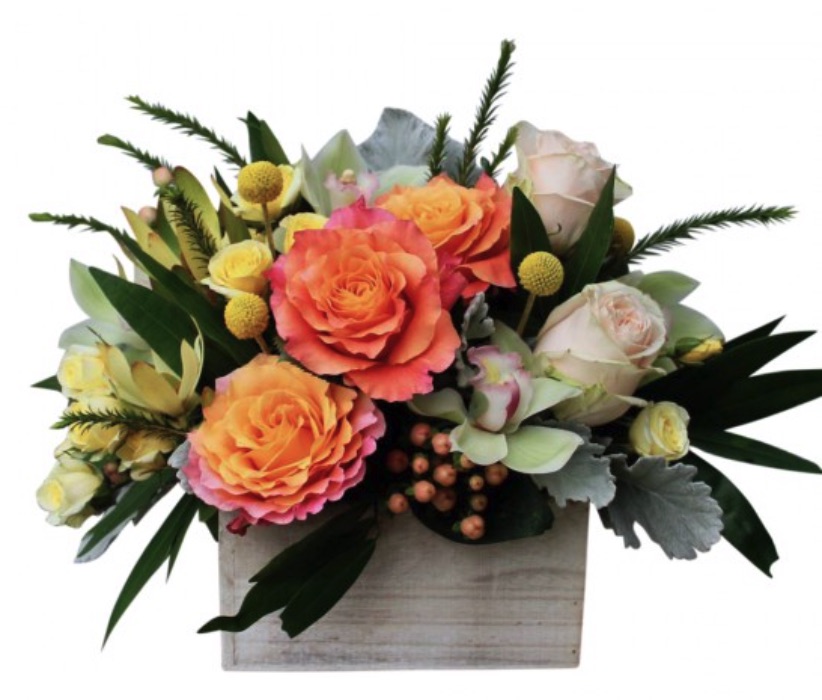 Glorious Autumn colors are nestled in a square wooden container, the Autumn Excitement Bouquet features Fall's best colors. Orange, yellow, cream, and lime green flowers along with hypericum berries, yellow billy balls, cymbidium orchids, and unique greenery. Amazing Autumn colors.
14. Global Rose – Best Online Thanksgiving Flowers
In addition to roses, Global Rose delivers mixed floral bouquets. Customers can also enroll in a subscription plan where flowers are delivered on a regular basis. Subscriptions plans include flowers for 3, 6, and 12 month periods. Prices start in the low $50s.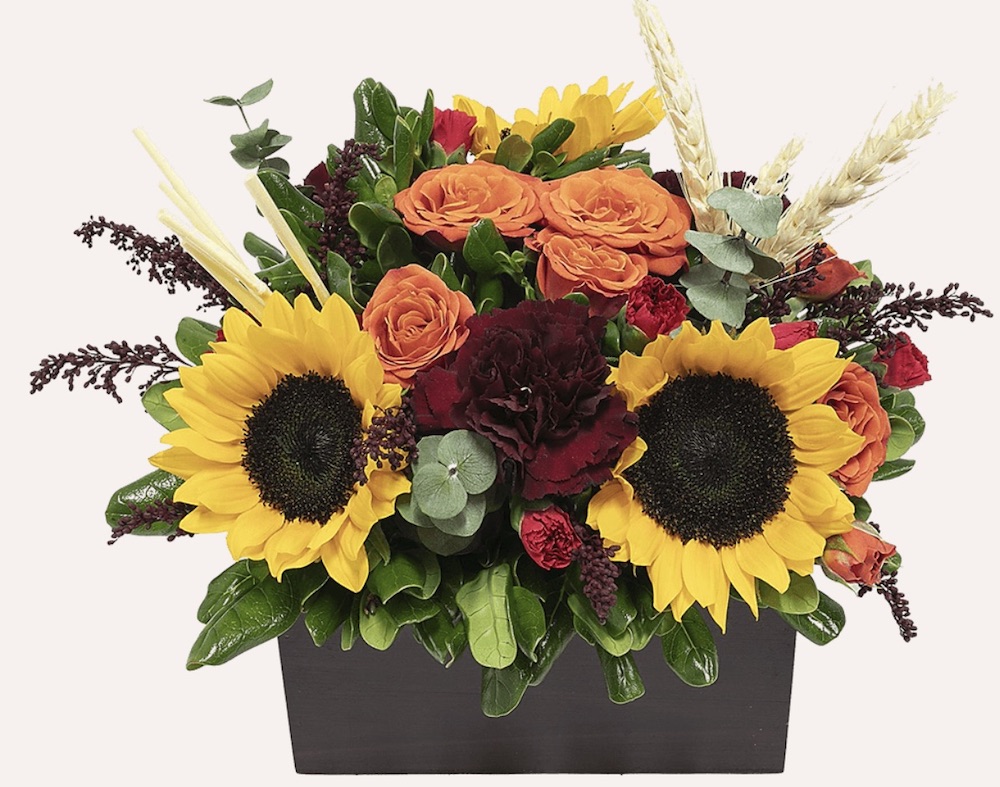 Filling a dark wooden container, the Leaf Peeping Fall Arrangement is an attention getter. Filled with pittosporum, tinted burgundy solidago, Sunflowers, orange roses, and burgundy carnations. And to top it all off, baby blue eucalyptus stems add that final touch. A great addition for a rustic, country, or vintage decor.
15. Bloomsybox – Best Online Thanksgiving Flowers
For offers of both subscriptions and single bouquet purchases, BloomsyBox delivers from eco-friendly flower farms. Customers can select from weekly, bi-weekly, and monthly floral subscriptions.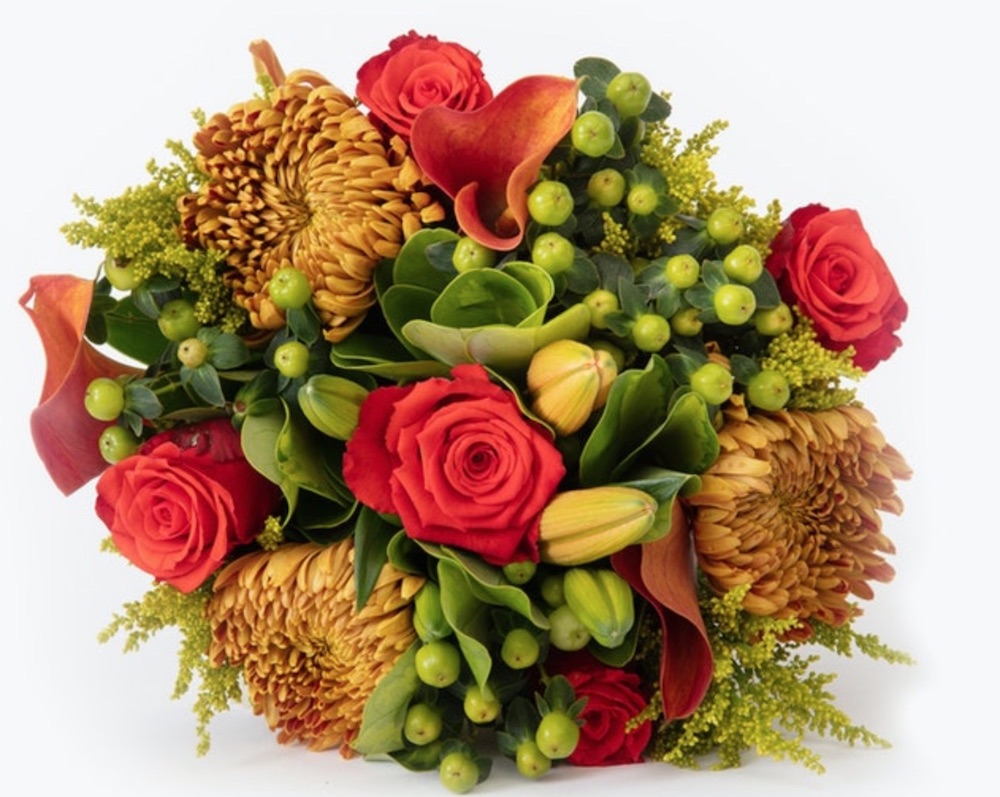 A stunning display of Autumn flowers, the Autumn Spice Bouquet is a show stopper. The bouquet features mango mini Calla Lilies, fiery red-orange Roses, bronze Chrysanthemums and greenery. Bouquets arrive hand-tied and wrapped in eco-friendly paper. All bouquets arrive with care instructions.
16. Roseacholics
Fresh roses are delivered from their family-run farm in Ecuador, The Rosaholics Company's roses are Rainforest Alliance Certified. Roseacholics offer single deliveries as well as subscriptions with 20% discounts. As of this writing, you'll see prices start at $35 plus shipping.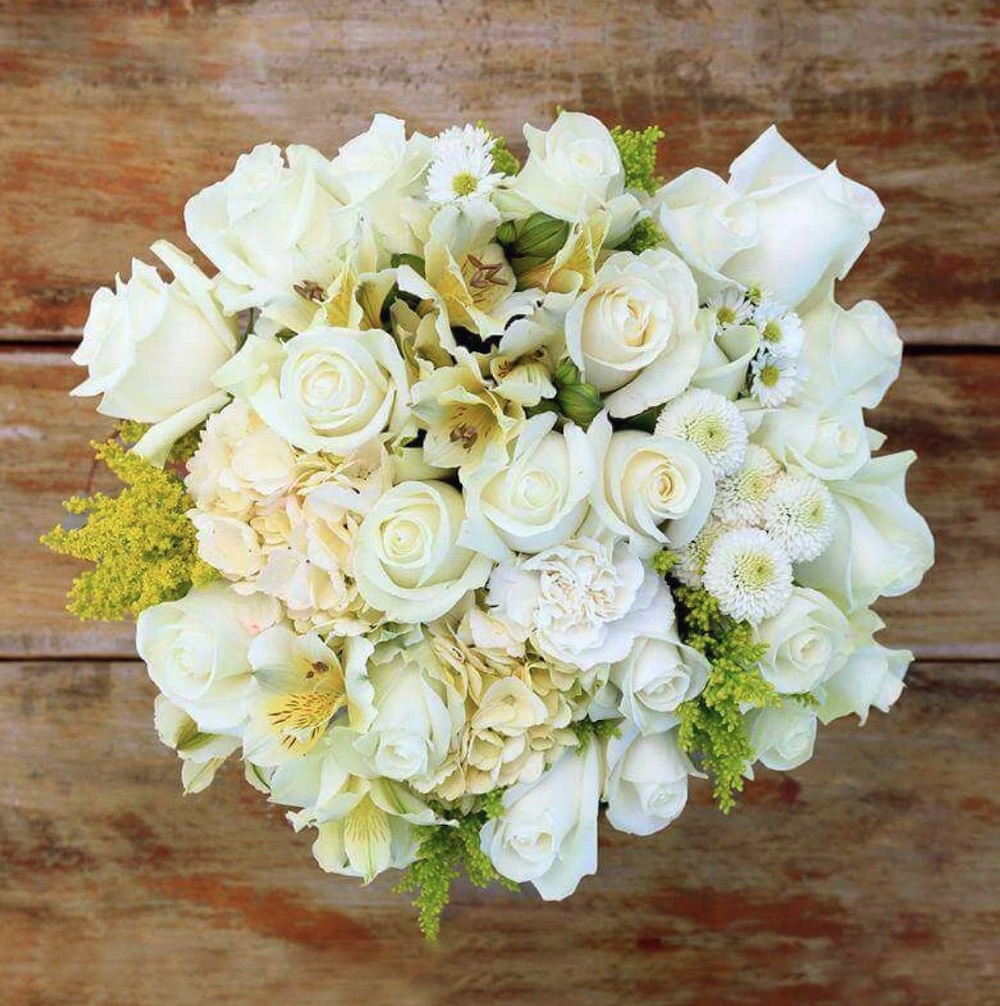 For an elegant floral look, the Grazie Mille Fresh Flower Bouquet has an all white ensemble. Bouquet includes roses, lilies, full size mums, miniature mums with light green foliage.
17. Venus et Fleur
Founded in 2015, Venus et Fleur present themselves as New York's first bespoke, luxe rose arrangements retailer. Venus et Fleur presents classic arrangements using only their trademarked 'Eternity Rose.'
The Eternity Rose uses a special preservation process. As this unique process enables the Ecuadorian roses to keep their scent for 2 – 3 weeks and as a result of this process, roses stay fresh for up to a year!
As a side note, these roses are popular with celebrities and received much press for their unique longevity and beautiful presentation.
And of course, prices start at $44 with hand deliveries in New York City and Los Angeles, with UPS or FedEx covering all other locations.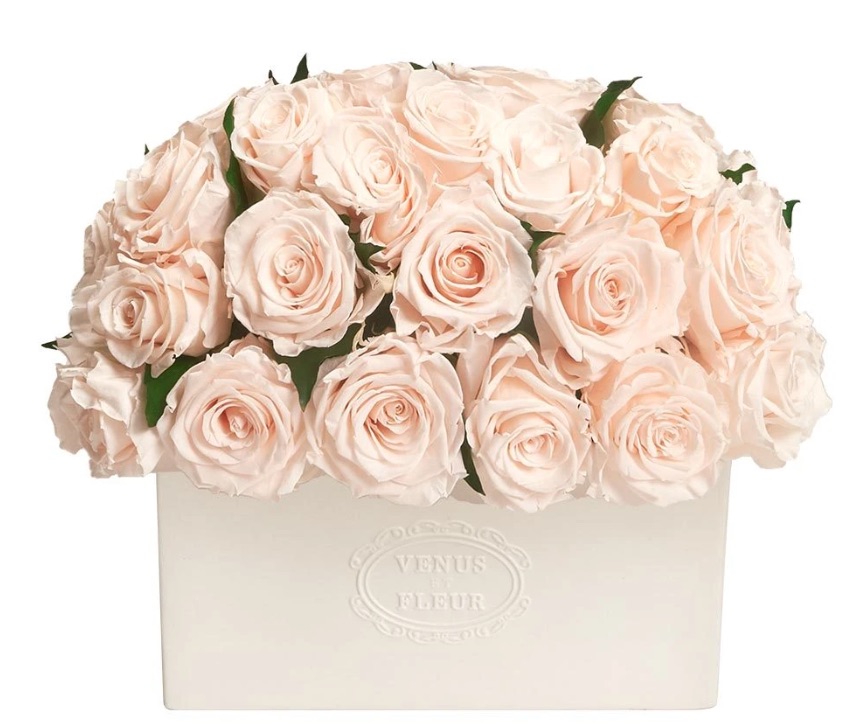 For an elegant setting, the Serene Vase with Eternity® Roses & Eternity™ Hedera Leaves is a balanced mixture of roses and greens. The Serene Vase enhances the sense of harmony and grace of any setting. Filled with Eternity Roses in blush color.
18. A800Roses
Cultivated on an Ecuadorian farm, A800Roses are sustainably grown. Farm fresh flowers sent directly from the Ecuadorian farm across the globe.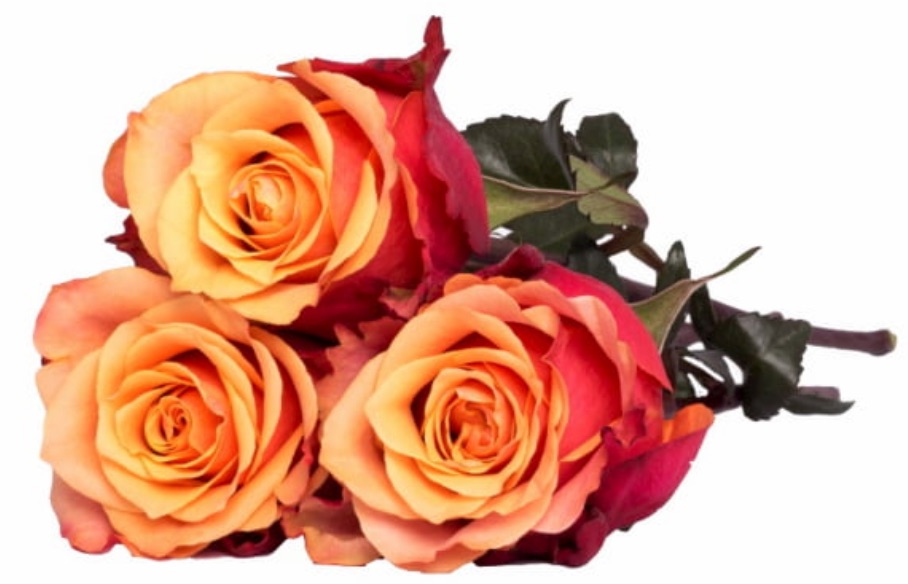 Bold and fiery blossoming, the Orange Box is perfect for the Autumn decor.
19. Landeau
Marketing itself as a 'luxury florist' selling premium roses, the Landeau offers roses with a different twist. Uniquely presented roses in a signature container that exudes Parisian flare. The product is simple, 25 premium Ecuadorian roses presented in a classic Parisian-style hat box. These memorable roses are available in 6 different colors. Landeau's philosophy remains the same: Simplicity is the ultimate sophistication.
And of course, these Parisian inspired bouquets are available for delivery and pickup in New York City, San Francisco, Portland, Los Angeles, Vancouver, Kelowna or Toronto.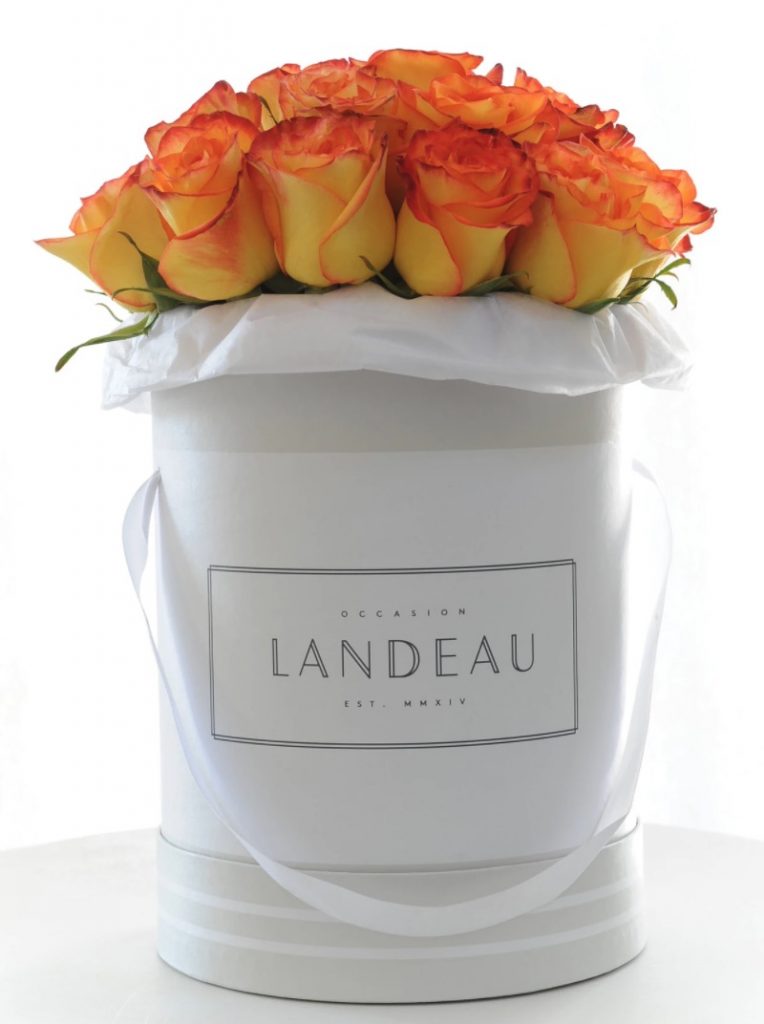 Every box of Landeau roses includes 25 premium Ecuadorian roses in a custom fitted vase. Landeau believes that 25 is the new dozen. And this gorgeous rose bouquet of Luxem Roses is tucked inside a Parisian hat box. Ecuadorian roses full of love.
20. Ode A La Rose
In their native France, flowers aren't something sent; flowers tell a story on your behalf. This includes the color choice, composition, and number of stems. Ode à la Rose believes bouquets have meaning, heart, and passion. And so Ode à la Rose was launched in 2012 to share this part of their culture.
Flowers à la parisienne or should we say we design bouquets the French way, with elegance and according to the seasons. Designs are created every day in their New York City, Chicago and Philadelphia ateliers. And always using the most luscious flowers from eco-friendly farms.
Ode à la Rose offers same day flower delivery to NYC, Chicago and Philadelphia, as well as next day flower delivery nationwide.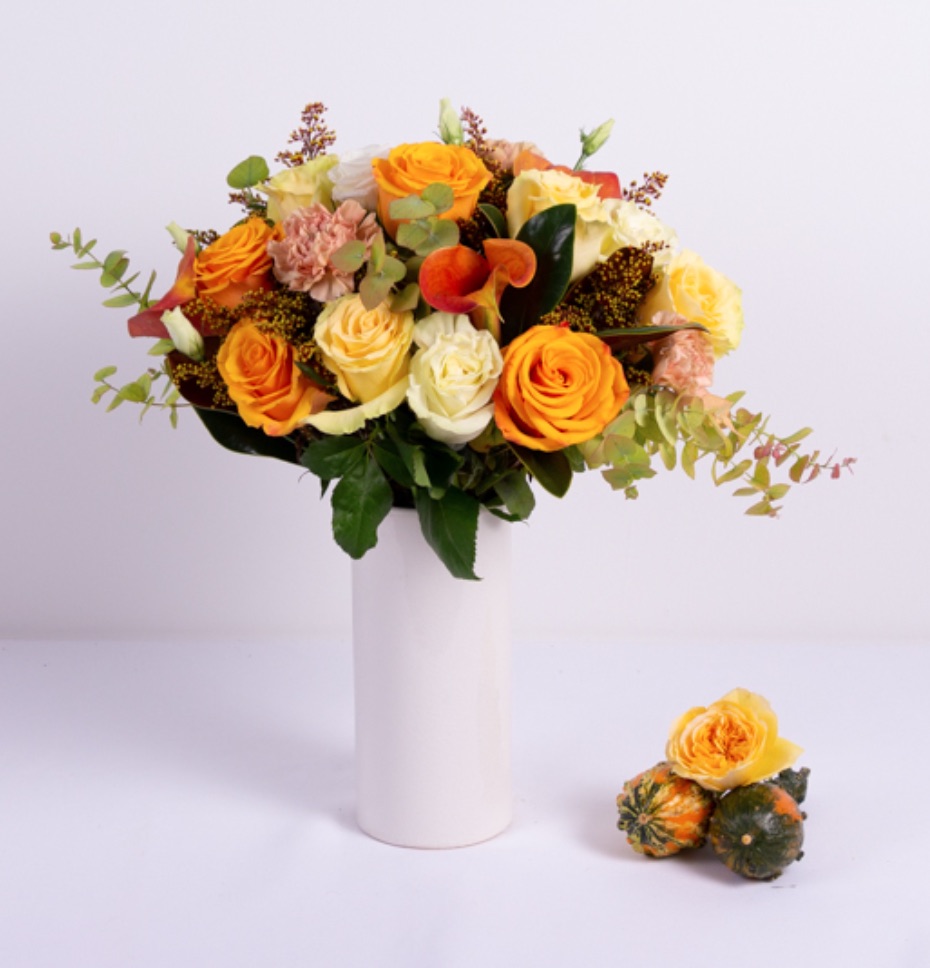 With warm tones of peach, apricot, burnt orange and pale yellow, the Aurora Bouquet is a stunner. Wrapped in a bed of two-toned magnolia leaves are orange calla lilies, brown solidago, white lisianthus, and mondial roses. This unique mix of flowers are available in three sizes. Also included in the bouquet are rainbow eucalyptus for an Autumn splash of color.
21. Plant Shed – Best Online Thanksgiving Flowers
For delivery in the New York City area, Plant Shed has flowers, plants, candles, and nuts. A family owned and operated New York City Florist since the 1950s, has fresh flowers, plants, as well as orchid collections. Hand-delivery is available anywhere in New York City, any day of the week.
In addition to these gifts, they have a cafe in three of its four locations. So if you happen to be in New York City, drop by for a quick bite and escape the bustle of the city.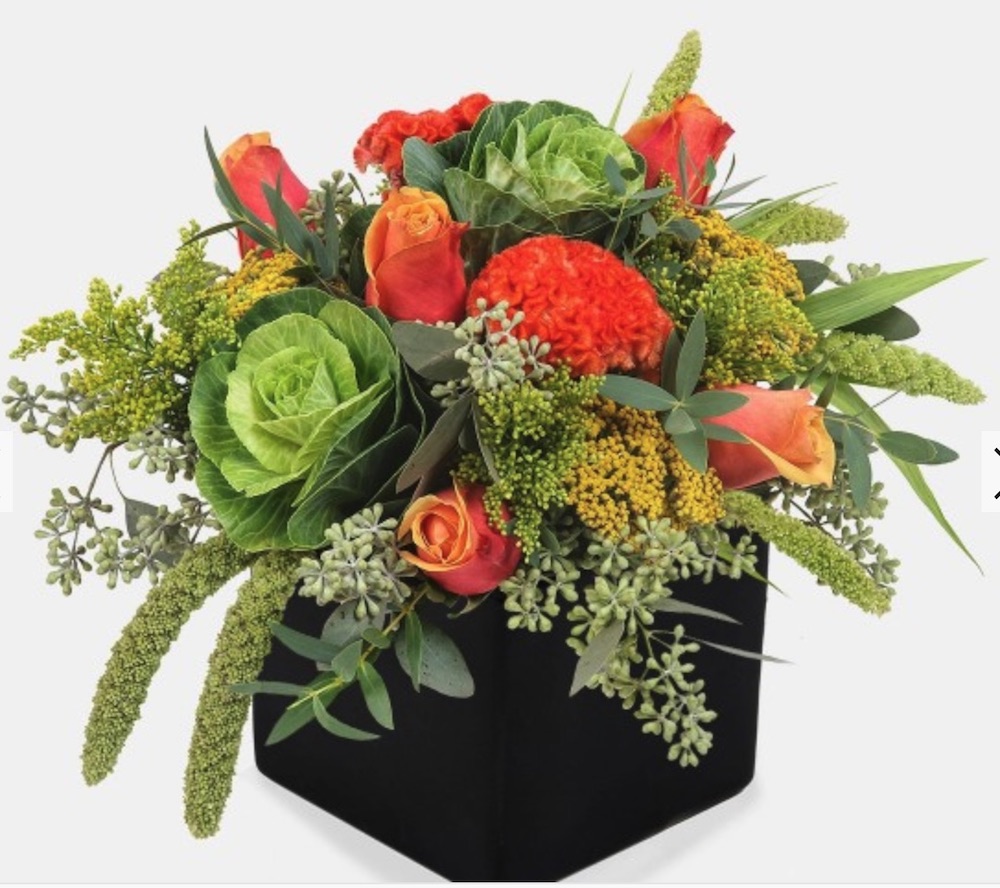 Measuring about 11 to 12 inches high by 13 to 14 inches wide, the Autumn Palette features ornamental kale and roses. Also tucked alongside the roses are solidaster, yarrow, celosia, millet grass and greens. The perfect Autumn gift. Free Manhattan delivery is available on orders over $100 per location.
22. Plants.Com
The plants company, Plant Company offers a wide range of greenhouse-direct indoor potted plants, herbs, as well as succulents. However, included in their inventory are other interesting gifts such as air plants, orchids, a selection of bonsai and bamboo plants in addition to hanging baskets.
For delivery service, plants are shipped via FedEx. In fact, a 30-day guarantee ensures plants get delivered undamaged and healthy to the recipient.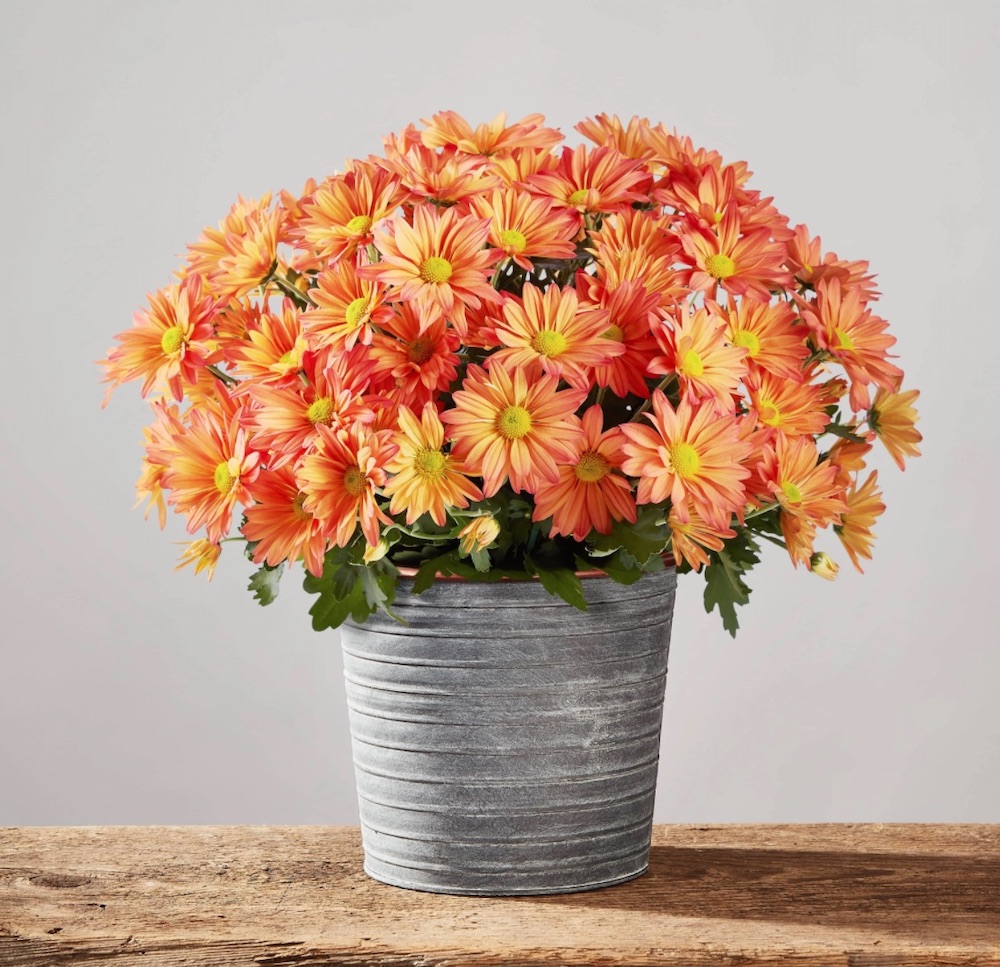 A farm stand favorite, the Chrysanthemum Blooming Plant has bunches of blooms in bright shades. Set the bright orange mum indoors or out on the porch or patio. Long lasting and popular in Fall arrangements.
23. Bloomscape
Based in Detroit, Michigan, Bloomscape specializes in quality, potted indoor plants. As an added protective measure, plants are shipped directly from their greenhouses. The thoughtfulness and beauty of this approach is that the usual 'sitting around languishing' at the big box stores is avoided.
Once an order is placed, plants typically ship within a week. And of course, every plant comes with customized care information for your new plant(s).
A small set of 3 plants, the Pet-Peromia Collection has plants ranging from 6 to 8 inches tall. Ideal for the no-fuss, indirect light, and pet friendly small home space. And removes toxins from the air to boot.
24. The Sill
Indoor plants along with offers of a variety of live, faux and preserved plants, pots and accessories is what The Still specializes in. The Sill sells plants individually while also offering subscription plans. And a lovely gift for any family, friend, or co-worker.
To better assist their customers, The Sill conveniently categorizes their plants. As a convenience, plants are labeled by traits such as 'for beginners' , 'pet-friendly' , or 'Low Light tolerant.' This labeling method makes it so easy to assess which plants might be a better choice especially when selecting a gift.
With their customers in mind, plants are shipped to all 48 contiguous states. Finally, The Sill plant prices start at $26.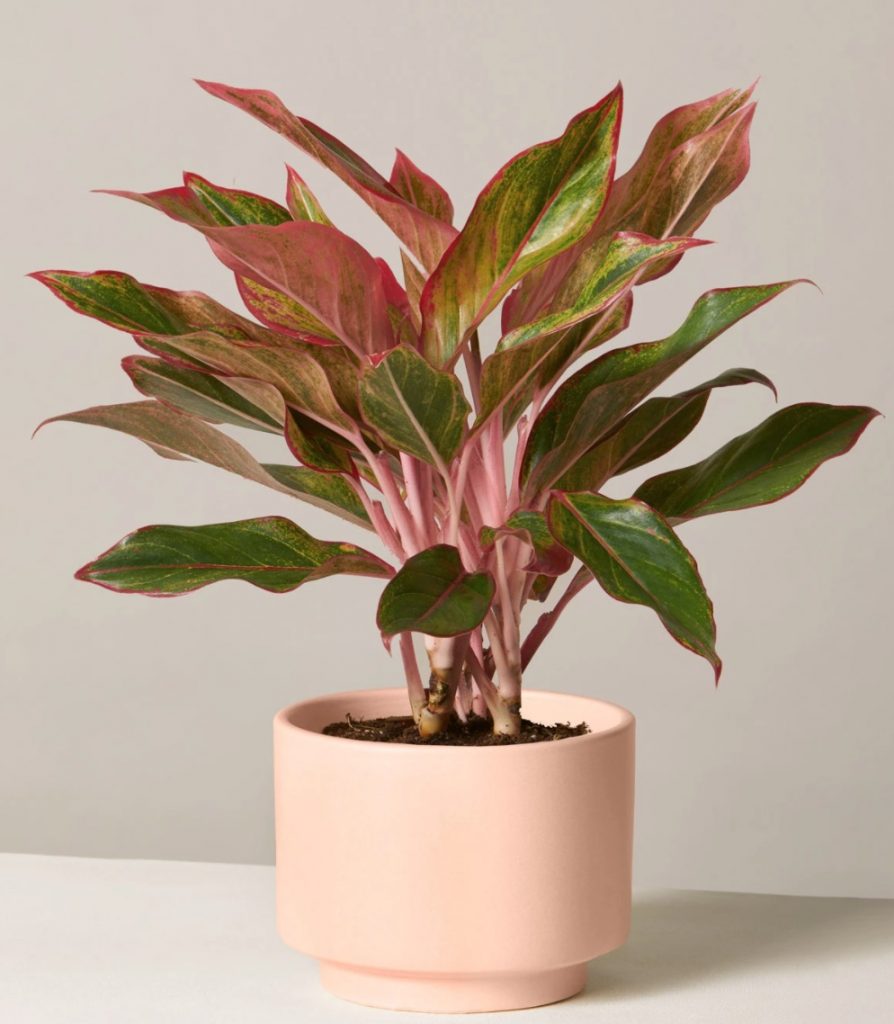 Show stopping beauty, the Red Aglaonema has vibrant green, pink, and red foliage. An easy-going Aglaonema is a low maintenance house plant that adds a splash of color to any home space. Give the Aglaonema bright to medium indirect light indoors to maintain its bold colors.
25. Lula's Gardens – Best Online Thanksgiving Flowers
Based in Los Angeles, Lula's Garden specializes in really cute individual succulent plants in gift containers or miniature pre-planted gardens.
As its website notes, Lula's Garden states that they "proudly support organizations that help improve lives around the world by providing access to safe water." Lastly, Lula's Garden gifts start at $27.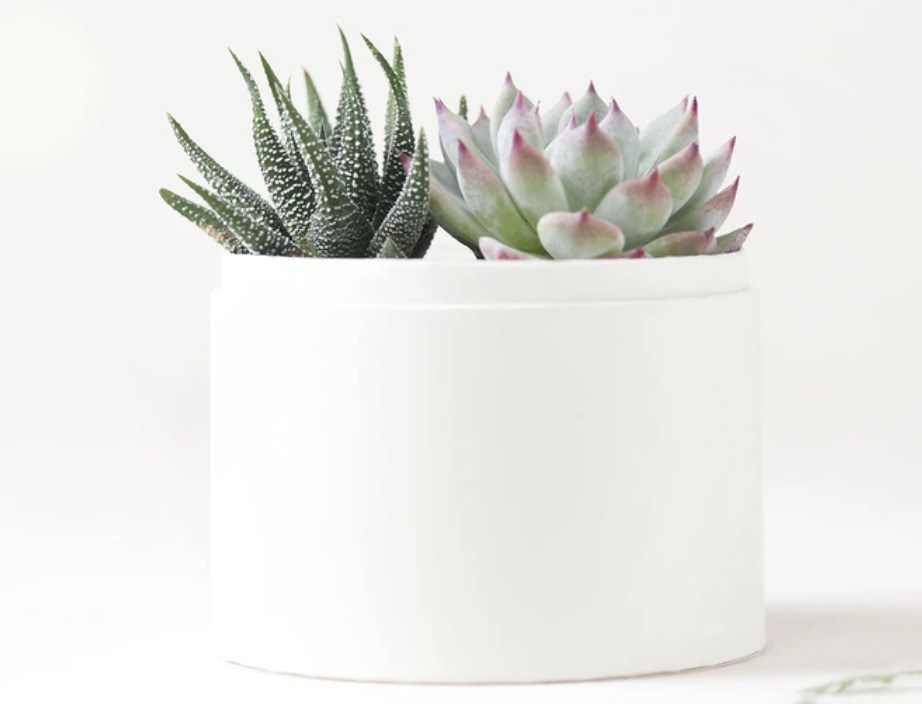 With a fresh succulent garden duo in a beautiful planter gift box, the Holiday Glow Garden features the Haworthia and Echeveria succulents. The set includes an ivory planter box measuring about 4 inches by 5 ½ inches. And packed along with a plastic dropper for ease in watering the fresh succulents. An impressive duet.
This ends our list of best online thanksgiving flowers to send, give, or deliver locally or across the miles. With this in mind, any of these Fall floral and plant selections fit perfectly when used at home dinners, as hostess gifts, or at the annual Thanksgiving table.
We believe that there is no better way to bring Fall indoors this time of year than with fresh flowers. Keep in mind that each of these florist and plant companies have unique products and services to help deliver smiles this Thanksgiving with flowers and plants. Finally, as a reminder be sure to let us know about your experiences. And of course, if you have success or want to share your experiences please leave a comment! We'd love to hear your stories.
You May Also Enjoy some of our other online flower and plant related posts.
Air Purifying Plants for the Home
29 Easy Houseplants to Beat the Winter Blues!
Best Online Flowers and Plants
13 Best Indoor Succulents to Grow Now!
And if you have any questions, feel free to reach out to us. We always are ready to help you out. Thank you for dropping by.
Mary