Pouf styling ideas to use today. We rounded up 19 of the most inspiring ideas for you. If you love the look of poufs, then you'll love our inspirational ideas. Poufs are seen in many of today's home decor stores. In today's post, we are featuring 19 inspirational ways to decorate your home using a pouf. One advantage of the pouf is that it can be used throughout the house. Use a pouf in the living room, bedroom, sitting room, and in a home office.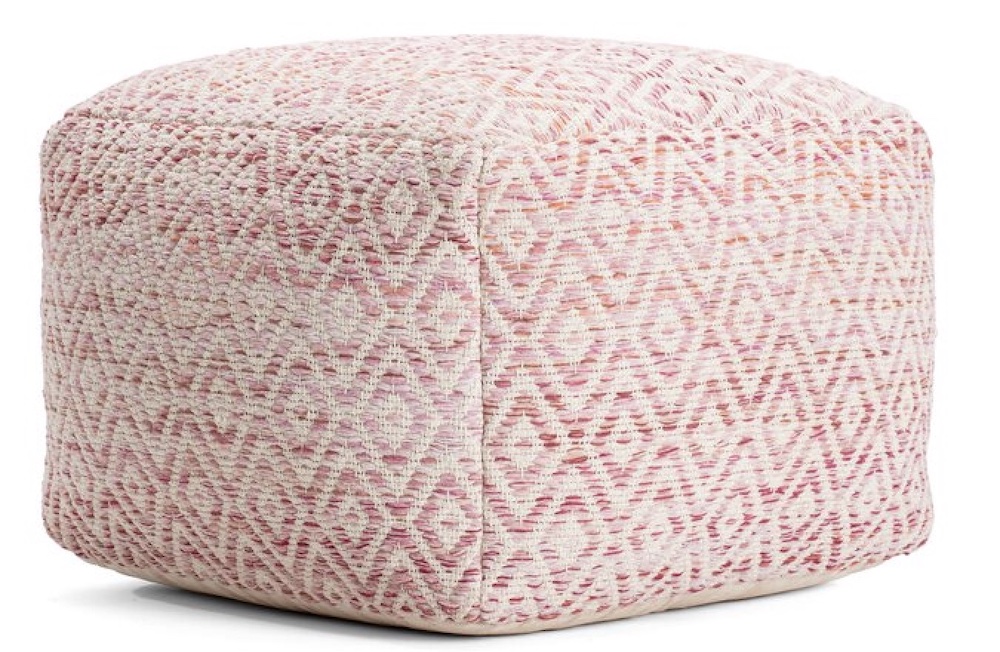 Those that live in small spaces or apartments can take advantage of a pouf, too. Since the pouf is lightweight and portable, it is an excellent choice for homes with limited space. A multi-purpose furnishing that doesn't need excessive floor space.
Put to Use the Pouf – Poufs Styling Ideas
Plunk a pouf next to the coffee table that can be pulled out for extra seating when needed. For large gatherings at home, use the pouf as a side table to hold a drink or tray of food. At the dinner table, toss a couple of poufs under the table for extra seating at dinner time. Sturdier, larger poufs can support heavier items. In a home office setting, a pouf can hold your laptop or other electronic devices.
As an alternative, an upholstered pouf can also be used as a footrest. After a long day at work, you may need to prop up your feet. Support your legs on a pouf while you take a quick break. And lastly, use as you please. Display the pouf purely as a decorative accent. Of course, we're sure you can think of other ways to utilize a pouf in your home.
Our favorite poufs follow below. Take a look at these cool poufs for your home.

Inspiration for the Home
Create a comfortable place at home. Find ideas on styling a pouf right here.
Live the Cozy Life – Pouf Styling Ideas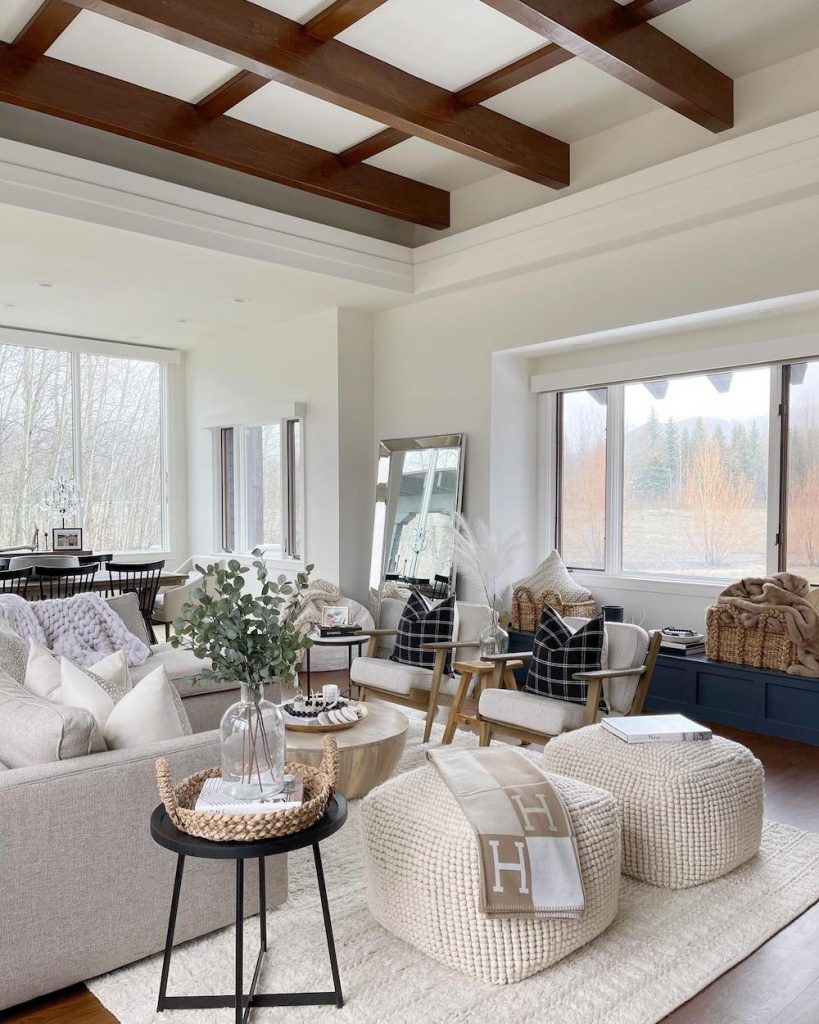 Make it pop with a little black here and there. Snuggle close to your love ones in this gorgeous living space.
Keep it Fresh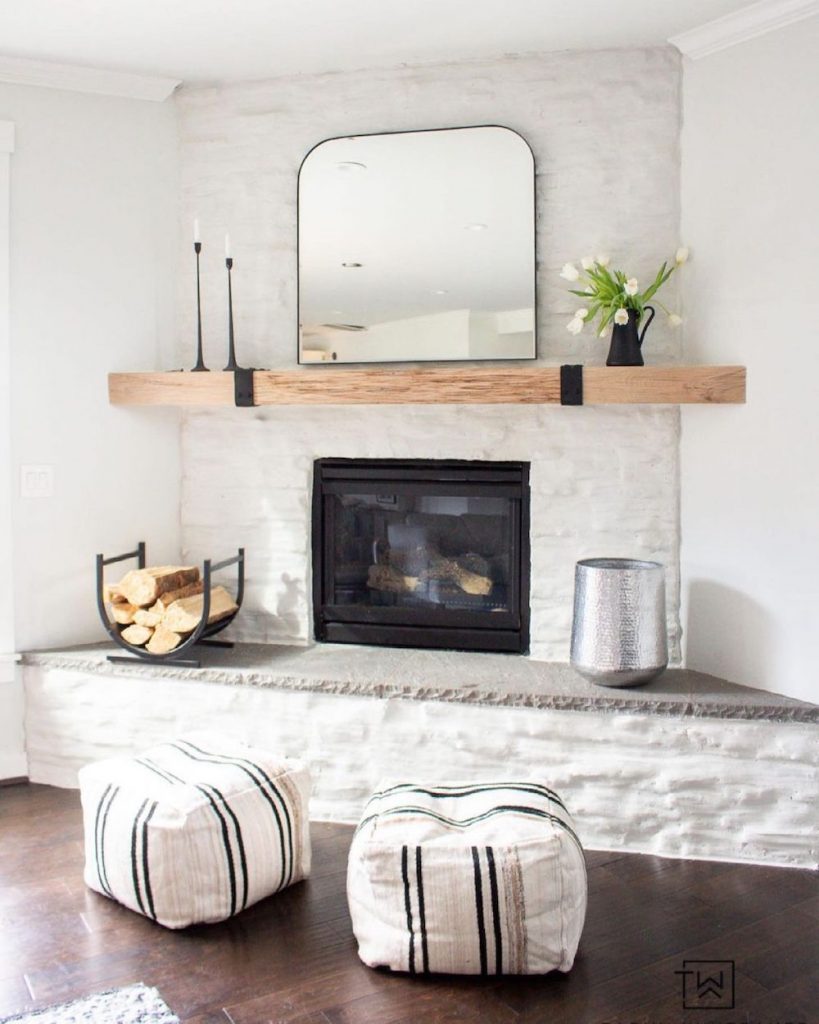 Enjoy one of the earlier signs of the spring season. Fresh tulips or flowers make a room light up. Anticipating the arrival of the spring season as the winter season winds down.
Style it Boho Gray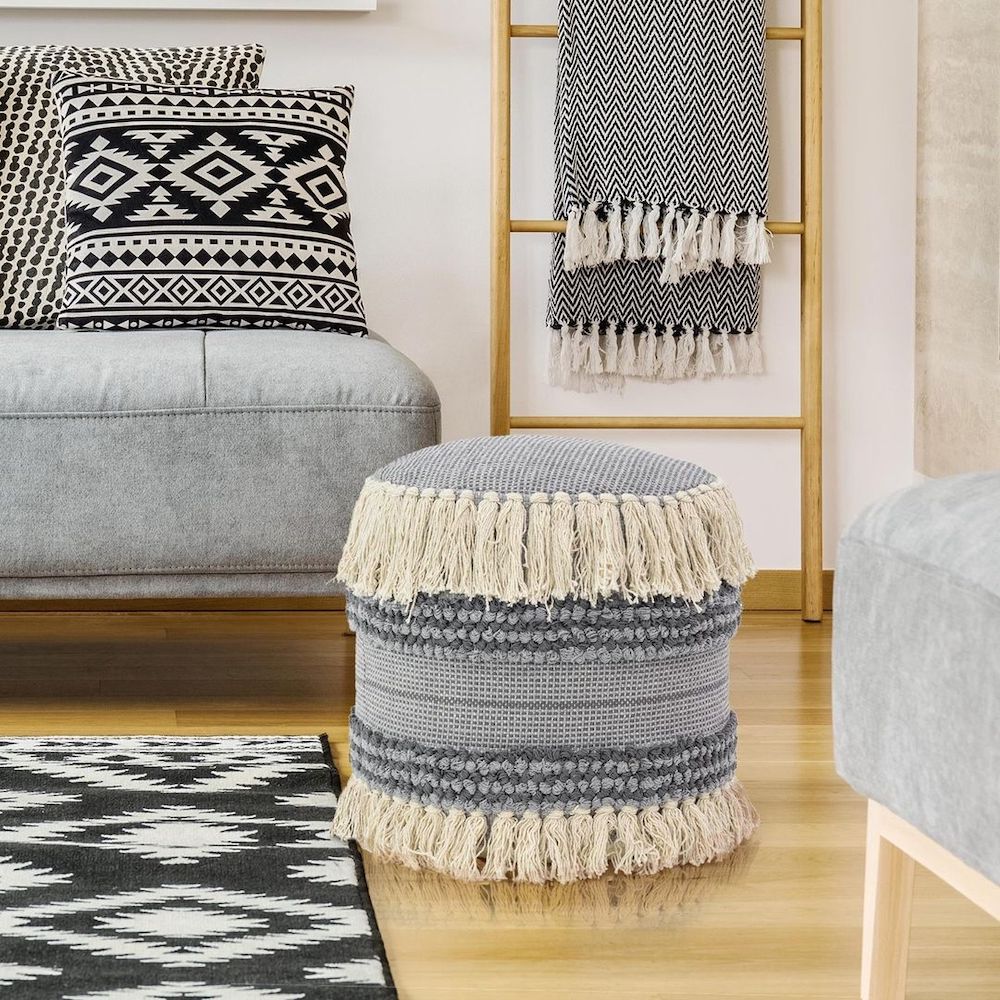 Continue the decor color scheme. Use the gray pouf with cream-colored fringe details. The pouf coordinates beautifully with the gray throw. Pattern repetition works well in this style.
Elevate Your Decor Style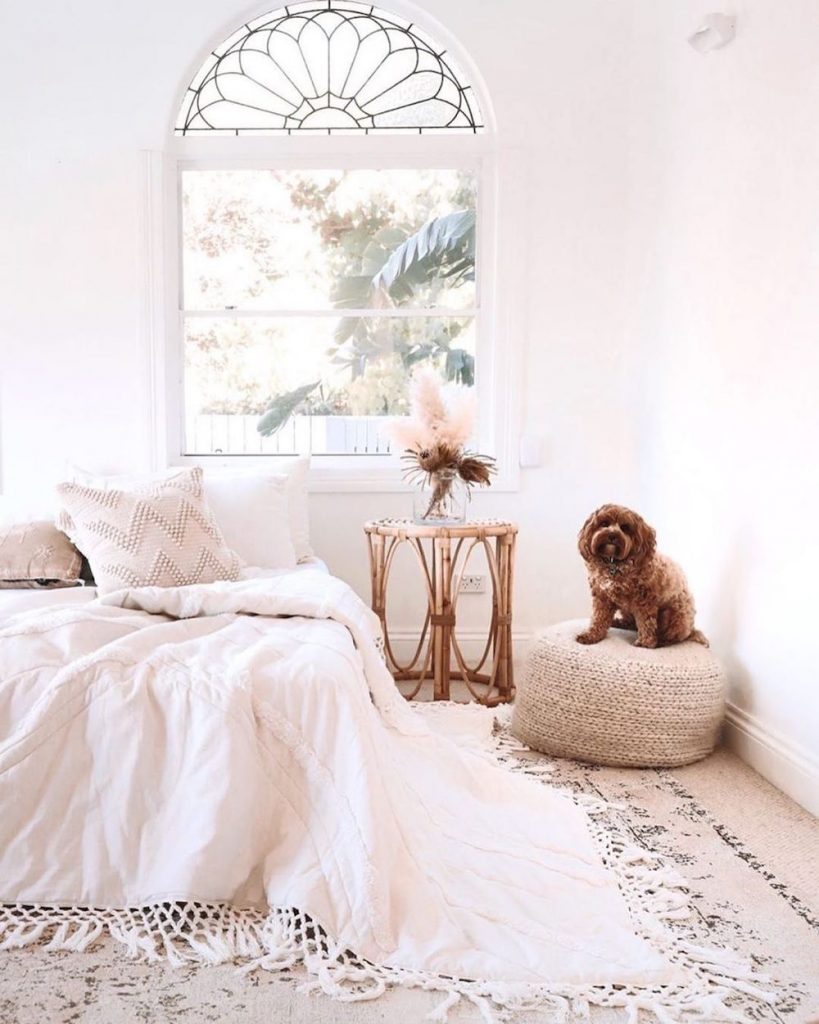 Take it up a notch. Poufs make great seating alternatives. Elevate your decorating style with a pouf.
Pair it with a Peacock Chair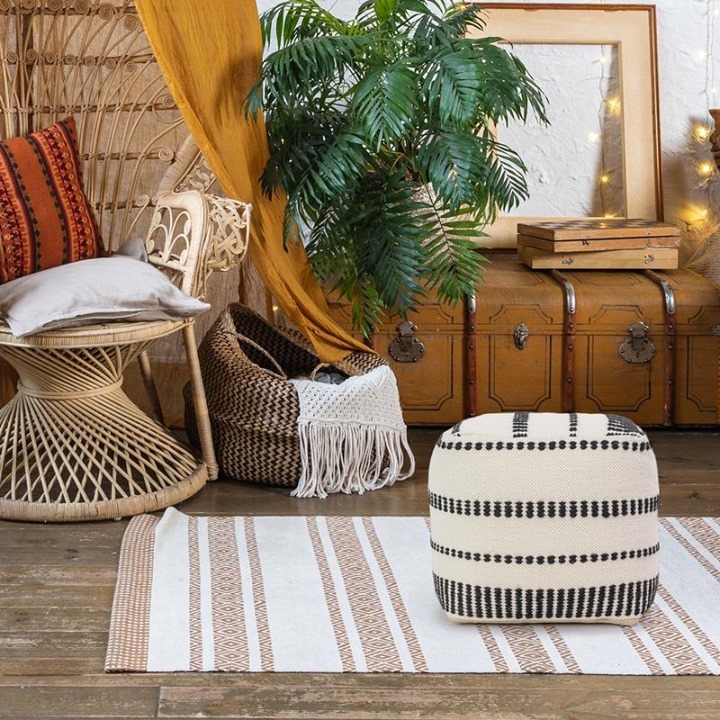 Keep a pouf by the Peacock chair. Drape a throw over the peacock chair for a dramatic effect.
Layer Various Textures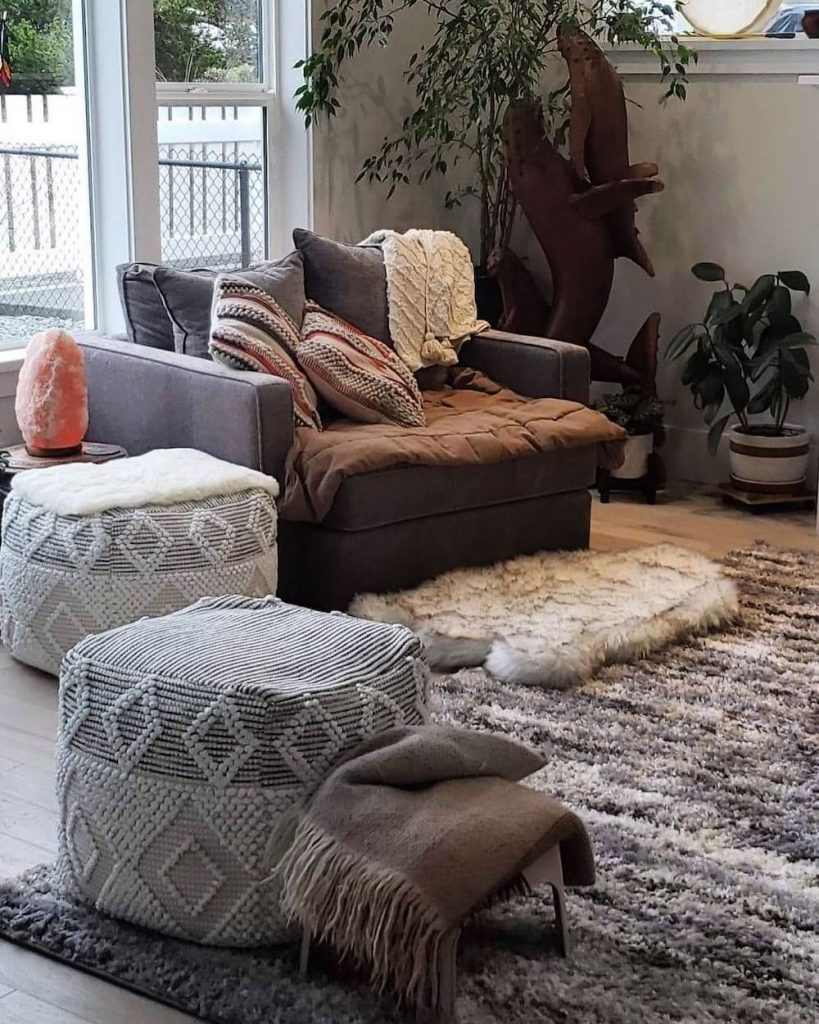 Add layers of boho fabrics loaded with textural designs. Mix it up a bit with different fabric types.
Use Warm Wood Colored Tones – Pouf Styling Ideas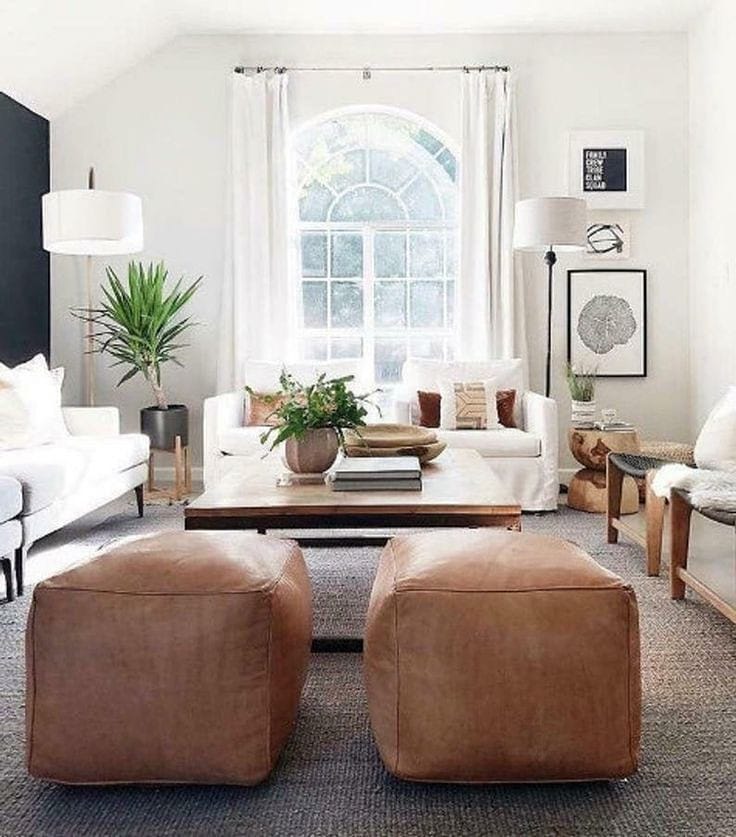 Keep a set of poufs together as a contrast to the surrounding furniture. The mix of colors adds balance to the room. The set of poufs, toss pillows, and wooden furniture details provide warm wood tones.
Go for the Natural, Organic Look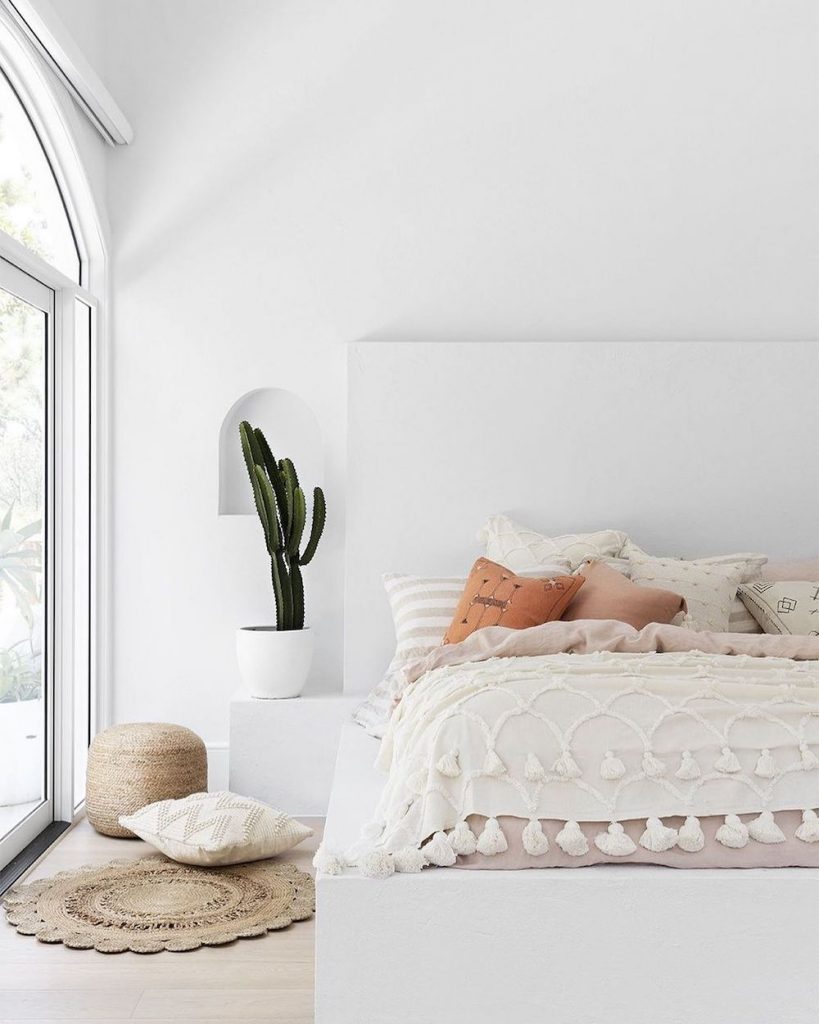 Integrate sustainable, eco-friendly furnishings such as rattan into your home. Go for the natural, organic decor with sustainable furnishings like rattan.
Make it a Beachfront Picnic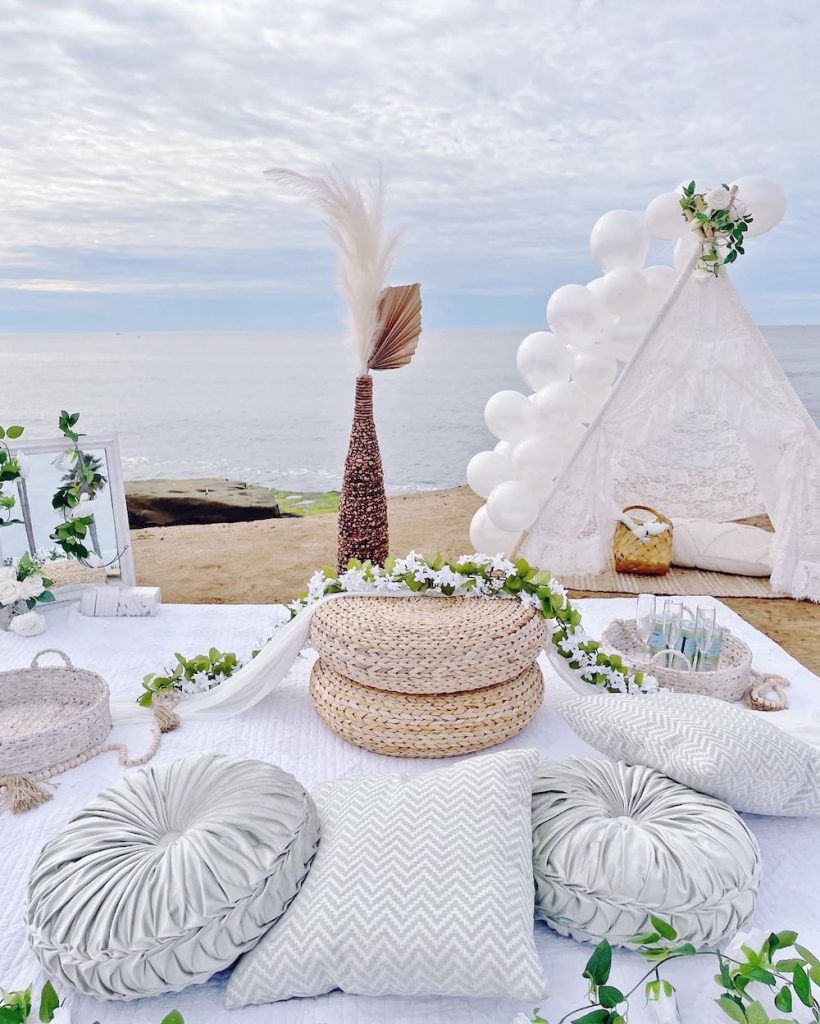 Gather your picnic table settings and table. Pack your poufs for the beach. Then head out to the beach. Find the best ocean view for your picnic. Celebrate the summer season with your picnic at the beach.
Borrow One of Your Closest Pals – Pouf Styling Ideas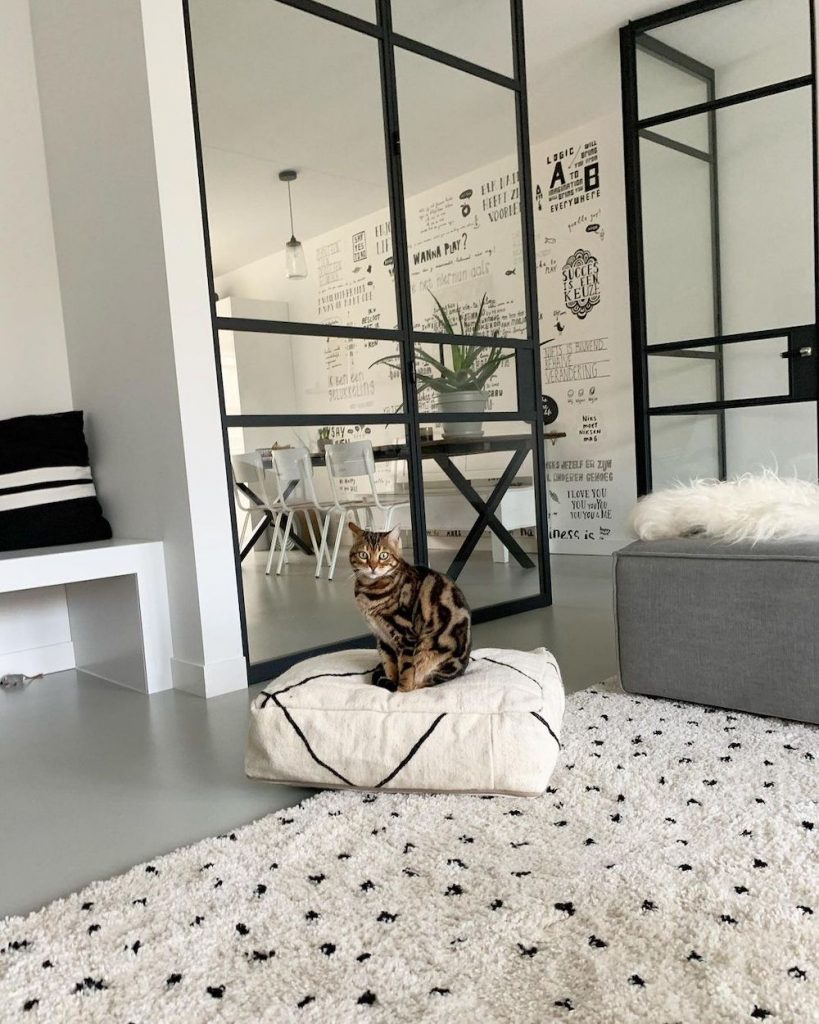 Create quick seating alternatives with extra poufs. Borrow one of your pals to demonstrate the ease in transitioning a pouf to a seating source. Expanding your seat options with this is a no-fail exercise.
Style it Natural and Pink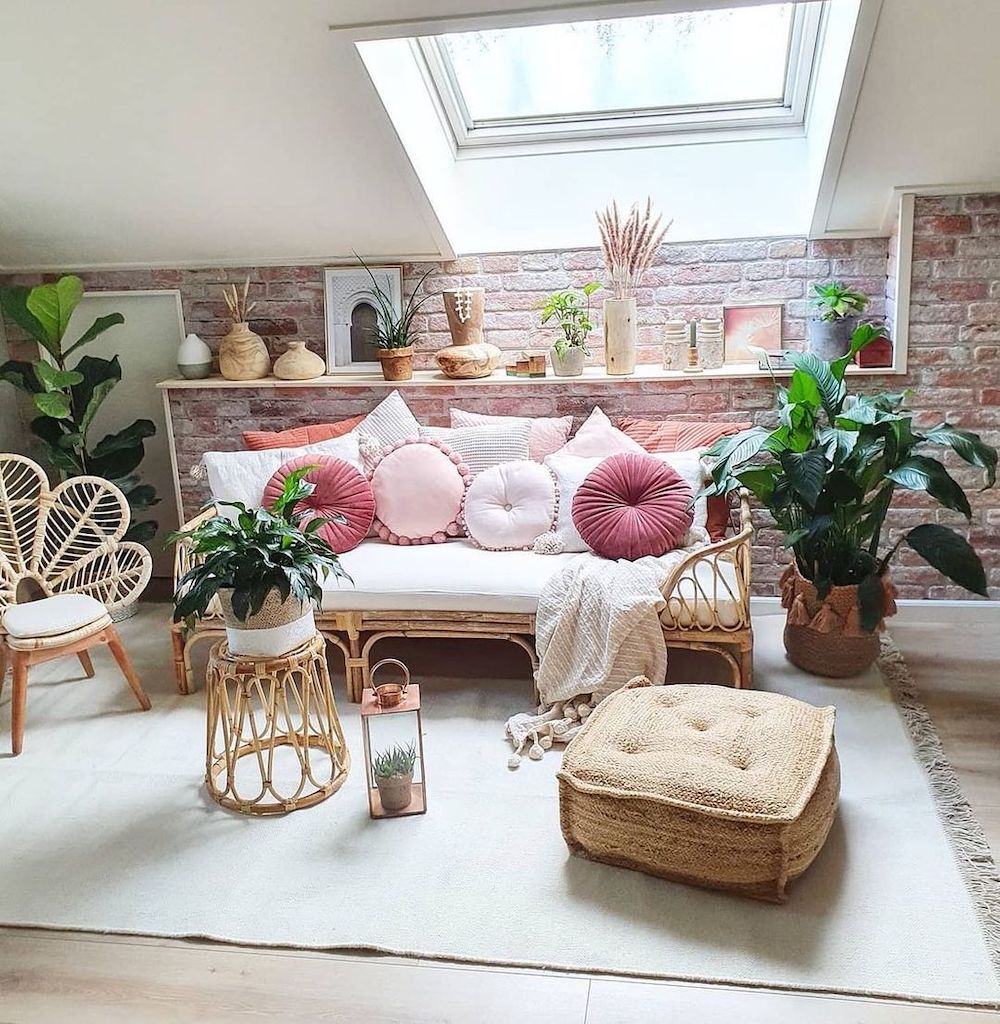 Make it a footstool. Starting in the loft, add a daybed or sofa made from sustainable rattan. Add lots of cushy pillows in pink and neutral colors. Grow a few plants under the loft window for better indoor air quality. And you have a great little space for resting, lounging, and reading. We especially love the look of natural rattan furniture.
Give the Space an Earthy Appeal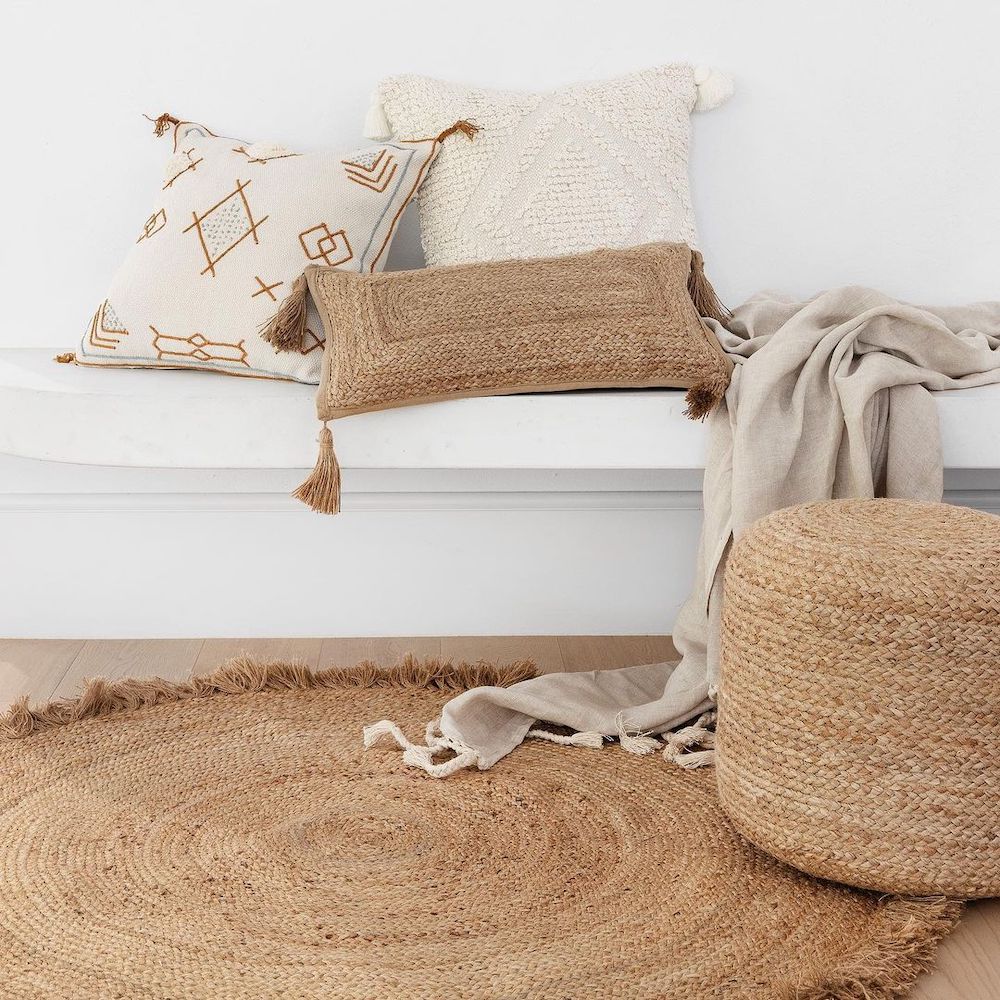 Use cream, beige, and tan-hued accessories for an earthy decor. Toss pillows in earthy colors blend well with the beige throw. Complete the look with the tan round pouf and floor covering.   
Cultivate an Inviting Seating Space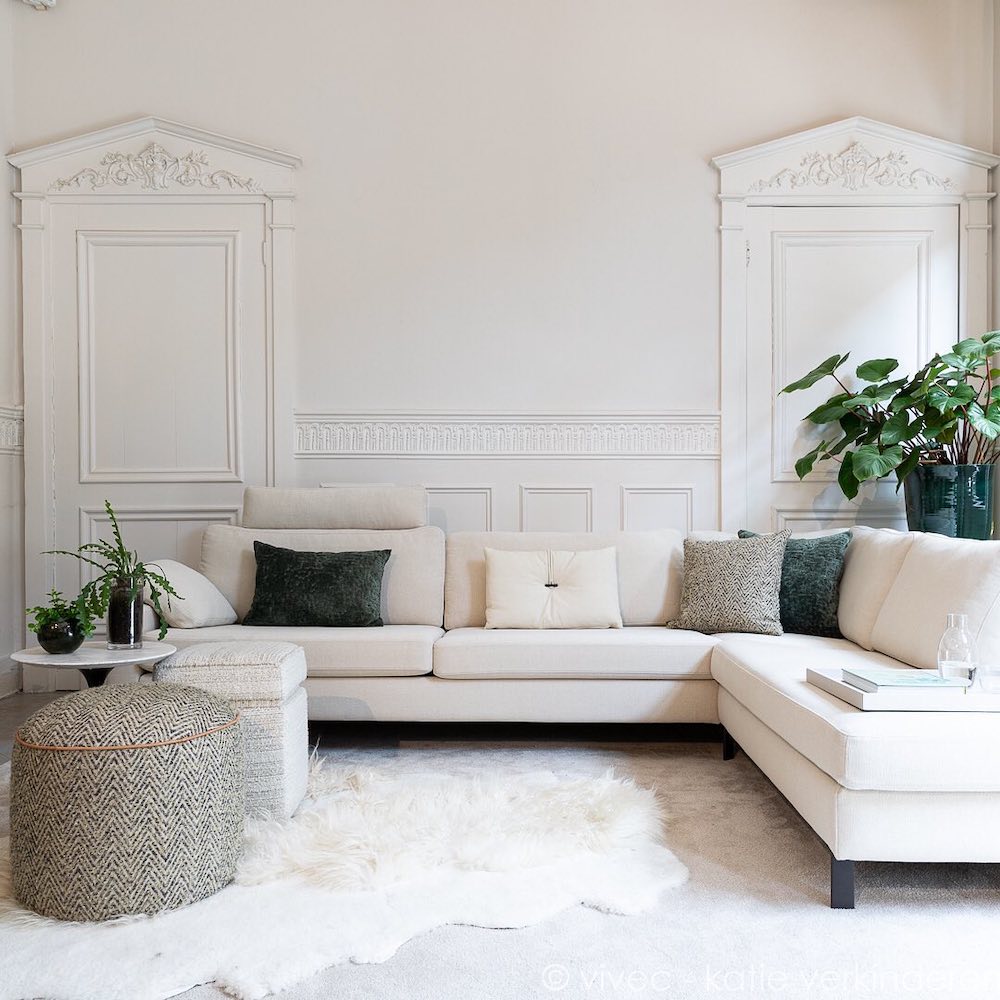 Add poufs covered in textured fabrics. The first round pouf is covered in a white-gray chevron pattern fabric. And the second pouf is covered in a cream textured fabric. A well-blended mix of colors and textures creates an inviting seating space.
Give it Picasso's Blue Period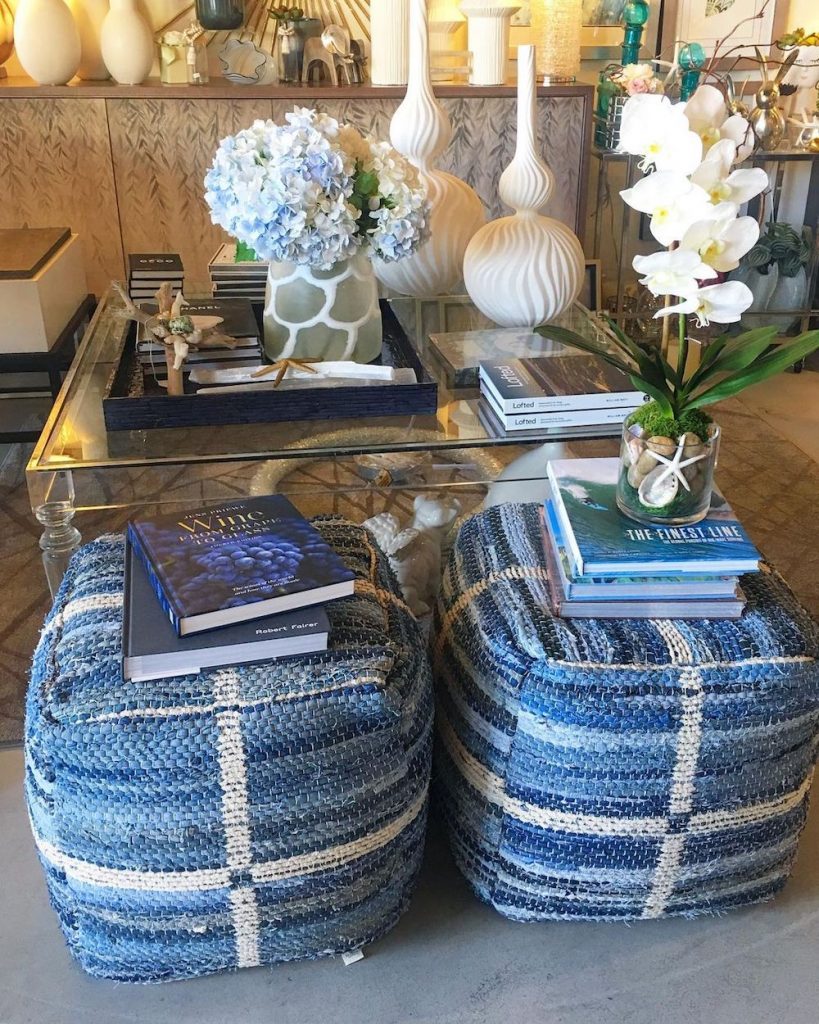 Decorate with the boldness of blues. Double poufs are tucked right near the acrylic coffee table for easy access. These beautifully textured poufs have a combined sea of blue colors. And there is your pop of blue color. 
Style it with Playfulness – Pouf Styling Ideas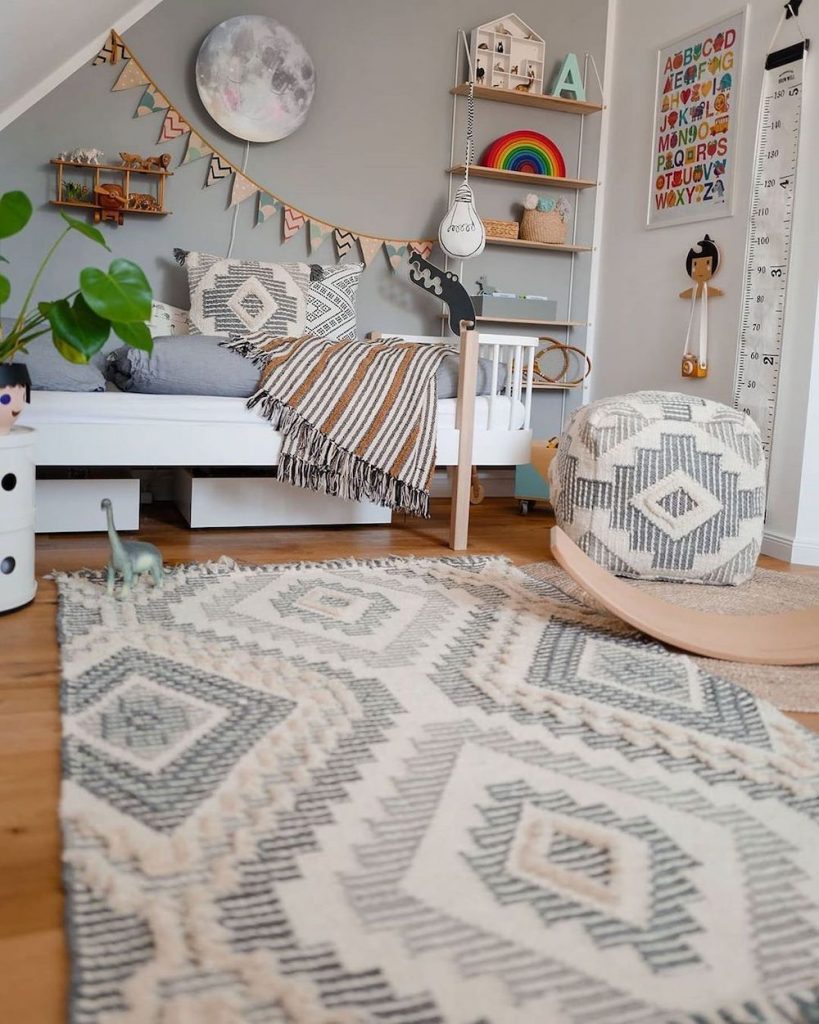 Make the room a child's favorite place to be. Fill it with a variety of wall art and toys. Add a floor rug and a textured pouf to relax on. And after it's done, who would ever want to leave it?
Pair it with a Hanging Chair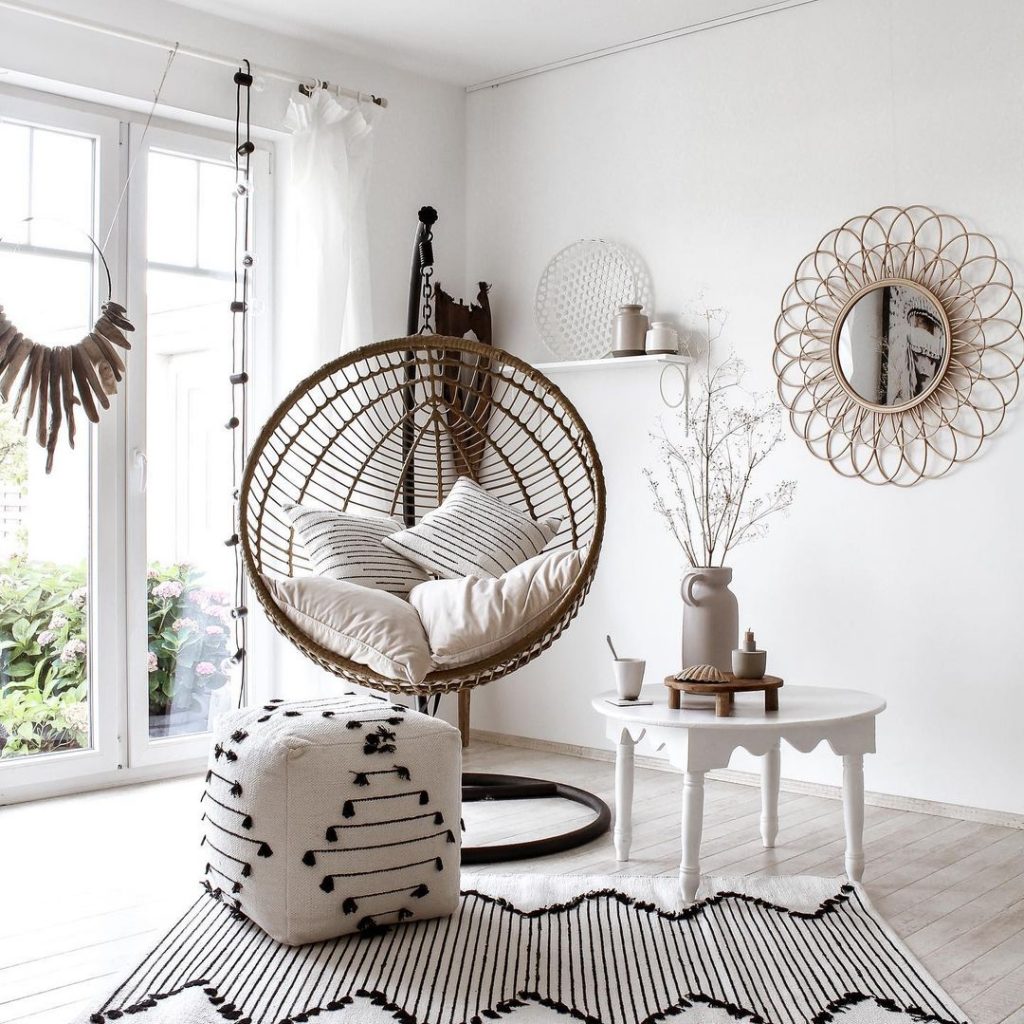 Combine your pouf with a hanging chair. The mostly white room has a few black details for a Boho-inspired room. A single pouf, toss pillows, and flooring have subtly fringed or embroidered details in black.
Create a Space for Warm Summer Evenings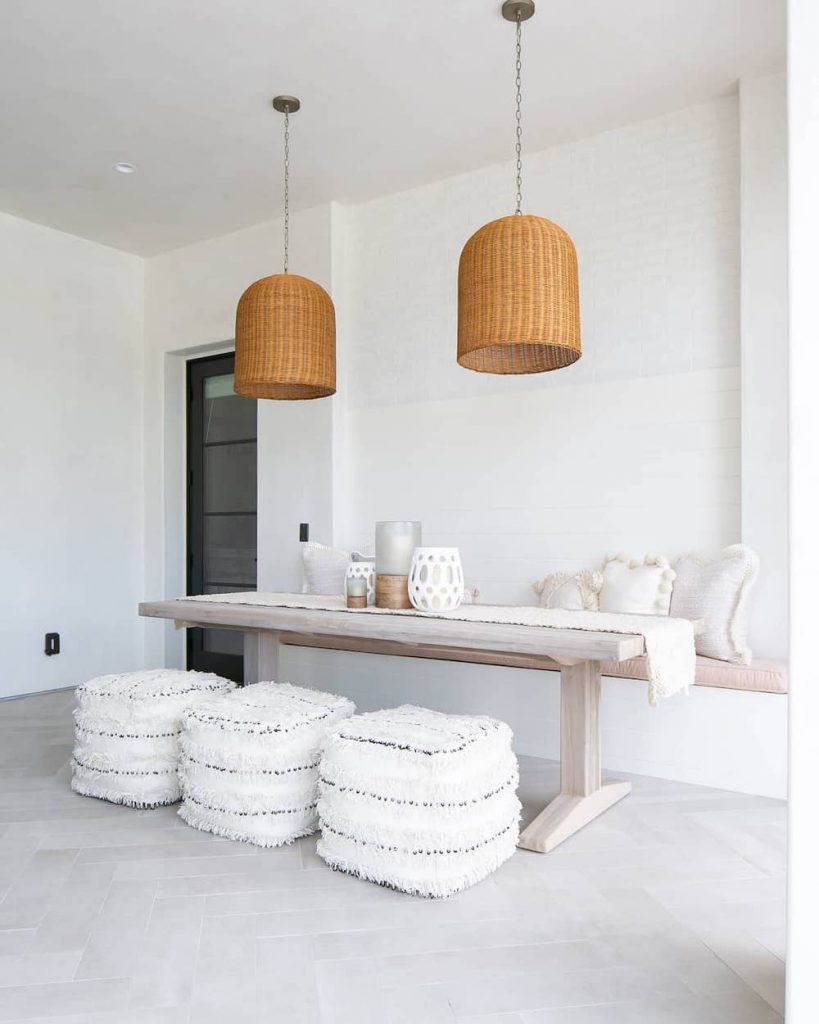 Hit the summer season running with this covered space. All white exterior with rattan pendant lights set the mood for warmer days to come. Add three poufs in a row for ease of access to the dinner table. We love the pom pom pillow on the built-in bench seating.
Work with What You Have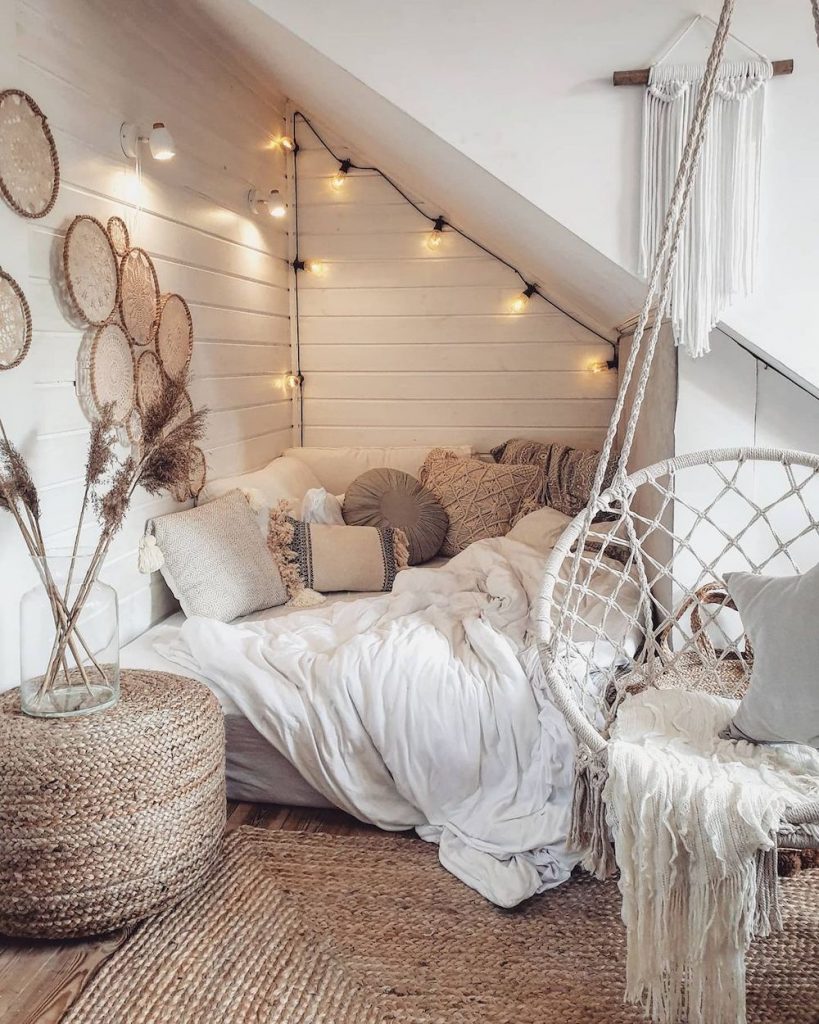 Create a reading or lounging nook behind the staircase. Install wall lighting for reading. String a set of vintage bulbs for extra lighting. Fill the lounging sofa bed with pillows, sheets, and a throw. As a side table, use a pouf to keep essentials nearby. Hang up wall art to make the space even cozier. Now you are ready to enjoy this under the stairway nook!
Talk About the Elephant in the Room – Pouf Styling Ideas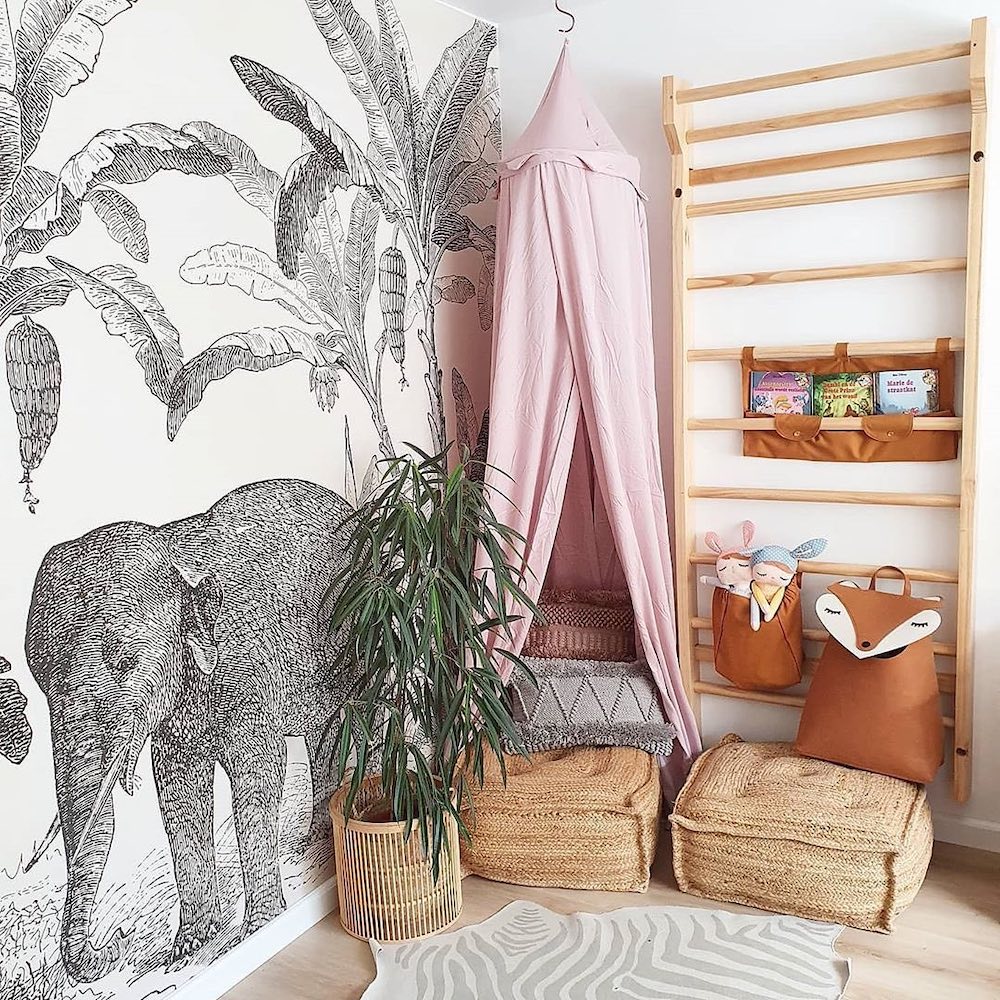 Turn it over to the kids. Hang a lovely pink tent in one corner. Add a few poufs to soften the seating arrangements. Install a wall bar for storing favorite books. Every bit of it is child's play. But for some reason, no one seems to be talking about the elephant in the room.
Using a pouf at home has many advantages. Lightweight and portable, the pouf is one furnishing that will always be in big demand at our house. The pouf transits so easily from a side table to a chair to a footrest. And of course, there is the impromptu pet daybed!
In Closing – Pouf Styling Ideas
This ends our list of pouf styling ideas. As you've seen, there are many ways to style a room with your pouf. We know that you'll love thinking of new ways to style your pouf at home.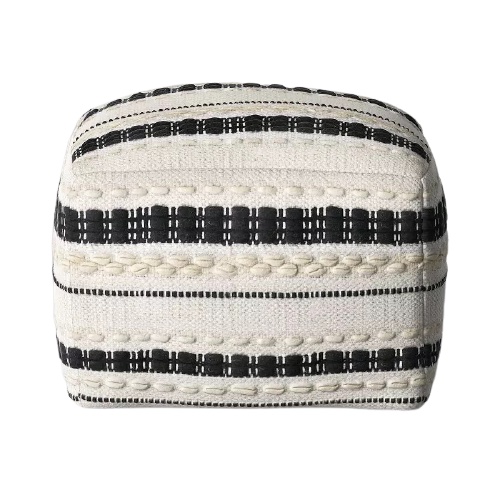 We hope that our 19 pouf styling ideas help inspire you. If you try any of these styling ideas, we would love to hear from you, our readers. Let us know how you make out with your styling projects. For additional coastal decor resources, check out our coastal decor post with helpful tips. Look at our 12 Ways to Add Coastal Decor to your Home post. And for additional coastal inspiration, take a look at some of our other posts.
Enjoy our other decor related posts for additional ideas.
Reach out to us with any questions. We are always ready to help you out. Thank you for stopping by our blog.
Mary
Pin this for Later: